The Irish economy is projected to grow overall by 14.6% this year, according to the European Commission's Autumn 2021 Economic Forecast released today.
The economy is set to grow by 5.1% in 2022 and by 4.1% in 2023, the Commission added.
The Commission said that the country's GDP is expected to grow very strongly this year, on the back of the activities of multinational companies and supported by a domestic recovery.
It also said that private consumption is rebounding as people's saving patterns normalise as Covid-19 restrictions ease.
Domestic investment, especially in construction, is also expected to register "robust growth" over the future months.
The Commission said that modified domestic demand, which better reflects underlying domestic economic activity, returned to pre-pandemic levels in the second quarter of 2021.
It is expected to expand by 7.3% this year, 5.3% in 2022 and 3.2% in 2023, it added.
But the Commission also noted that inflation has picked up and is projected to increase further in 2022.
Inflation is set to hit 2.3% this year and 3.1% next year before falling to 1.5% in 2023.
---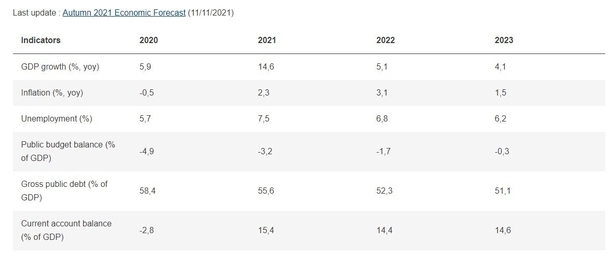 ---
Today's forecast also predicts that the country's unemployment rate will hit 7.5% this year, before falling to 6.8% next year and 6.2% the following year.
The fiscal outlook is set to improve from 2021 onwards, with the headline deficit ratio reaching 0.3% in 2023.
Meanwhile, the euro zone economy will grow faster than previously expected this year as it recovers from the pandemic-induced recession and continue to expand strongly in 2022 with deficits and public debt falling, the European Commission forecast today.
The Commission said gross domestic product in the 19 countries sharing the euro would grow 5% this year after a 6.4% recession in 2020.
It forecast growth of 4.3% in 2022 and 2.4% in 2023. Its forecast in May for 2021 growth was only 4.3%.
"Our measures to cushion the blow of the pandemic and to ramp up vaccinations across the EU have clearly contributed to this success," European Commission Vice President Valdis Dombrovskis said.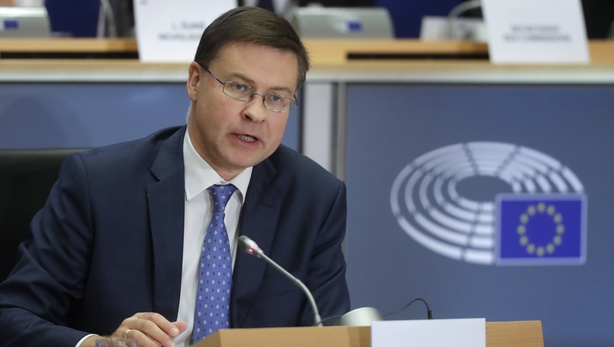 The Commission said inflation would reach 2.4% in 2021, up from 0.3% in 2020, before slowing to 2.2% in 2022 and 1.4 in 2023.
The peak in price increases is to come in the last four months of this year, and then slow gradually throughout 2022.
The fast growth and the gradual withdrawal of emergency government support for the economy will help reduce the aggregate budget deficit of the euro zone to 7.1% of GDP this year from 7.2% in 2020 and then to 3.9% in 2022 and 2.4% in 2023, the Commission forecast.
Public debt, which is to peak at an aggregate 100% of GDP for the euro zone this year, is to fall to 97.9% in 2022 and 97.0% in 2023 - a faster reduction than forecast in May.
European Economic Commissioner Paolo Gentiloni said that the European economy is moving from recovery to expansion but is now facing some headwinds.
"An unprecedented policy response cushioned the impact of Covid-19 on workers and businesses and a successful vaccination campaign has enabled the reopening of our economies since the spring. This has powered a surge in growth, which is in turn helping to stabilise our public finances," the Commissioner said.
But he cautioned that there are three key threats to this positive picture - a marked increase in Covid cases, most acute in areas where vaccinations are relatively low; rising inflation, driven largely by a spike in energy prices; and supply-chain disruptions that are weighing on numerous sectors.
"We must remain vigilant and act as needed to ensure these headwinds do not blow the recovery off course," the Commissioner added.