We need your consent to load this rte-player contentWe use rte-player to manage extra content that can set cookies on your device and collect data about your activity. Please review their details and accept them to load the content.Manage Preferences

Inflationary pressures are proving far more persistent than initially expected, according to data emerging across the world.
The cost of living for Americans is rising faster than it has for three decades, with food and fuel driving the increases.
The consumer prices index for October showed prices rose 6.2% over the last twelve months.
Inflation has been a growing concern for shoppers and policymakers this year as the impact of the pandemic persists.
In China, Producer Prices jumped 13.5% year on year in October - the highest reading since 1995.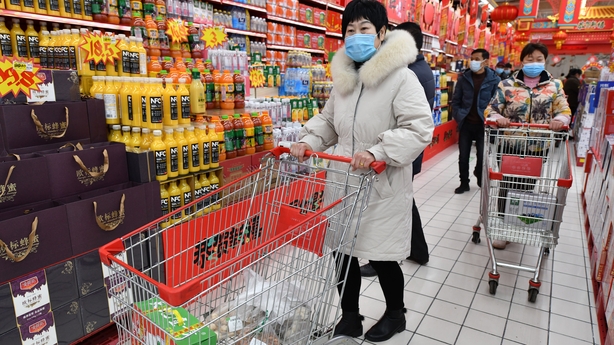 "Prices across the globe are surging and that includes food prices, and oil prices," said Paul Sommerville of Sommerville Advisory Markets, "and it's causing a big dilemma for the markets and the Central Banks.
"A year ago, the Federal Reserve said they are never going to be pre-emptive, they're hoping inflation is going to come and if it does come, they're not going to do anything about it. They're going to taper their quantitative easing programme and then look at interest rates later."
Two weeks ago, the Fed announced the start of their tapering programme which will bring them up to next summer.
"The markets are getting a bit jumpy about that because the market perceives that they should be doing that sooner, and the market is now pricing in two interest rate hikes by the Federal Reserve by the end of next year.
"Similarly with the ECB, the ECB has told us very clearly that they are not putting up interest rates in 2022 no matter what happens, and the markets are very concerned about that because we can see that inflation is running very, very high, and the markets perceive that they might have to change their minds in the next 6 months."
Mr Sommerville said the central bank's policies are totally inappropriate for the environment that we are in. There is an expectation that inflationary pressures will ease next year but that does not mean that the price hikes that are already there, won't stay in the system.
He expects volatility in the market next year because of the uncertainty. "Many investors believe being in the equity market is a good place to be because of inflation but that's not quite correct because if you get a stagflationary environment, which is what we're in now, history tells us that it's a much more bumpy ride and equity markets could be in for some very, very big down draft, in my opinion, in 2022."