The Guinness Enterprise Centre (GEC), an incubator in the heart of Dublin City, has today opened its new 100,000 square foot space following a €10m expansion project.
Due to strong demand, the Guinness Enterprise Centre has already committed 80% of its additional capacity to start-ups and expects to be at full capacity by early 2022.
It also said that a €1m phase two investment has now been announced and will start immediately.
The expansion consists of two additional floors at the GEC's site in Dublin's Liberties area and will see a 75% increase in net floor space with capacity for 762 start-up employees.
Over the next five years, 3,000 additional jobs will be supported by the expansion. This will include 1,500 direct jobs and 1,500 indirect jobs.
The additional jobs will bring the total number of direct jobs supported by the GEC to 5,000 by 2026.
The new investment will enable the GEC to support 150 resident companies, up from 85.
The facility can also accommodate 220 co-working companies, up from 160.
The expansion was funded by the GEC, the Ireland Strategic Investment Fund, the Department of Enterprise, Trade and Employment's Regional Enterprise Development Fund (REDF) which is administered by Enterprise Ireland, Dublin City Council, Diageo and Dublin BIC.
Resident companies include CoConnect, the GEC's partnership with more than 50 regional and international hubs and the Prosper Programme, which introduces CXOs to key local decision-makers.
The University Programme, which gives start-ups access to MBA business executives in 35 top Irish and international business universities, is also based there.
David Varian, Chairman of the Guinness Enterprise Centre, said the expansion project was completed during a global pandemic that brought challenges including construction shut-downs, escalating building costs and reduced operating income due to public health restrictions.
"The newly-expanded space will give more entrepreneurs access to the supports, networks, learning and investment funds they need to scale globally. They will be creating more jobs in the local community and contribute significantly to Ireland's economic growth," Mr Varian said.
"In the next five years, they will return almost €77m to the exchequer. We are creating a global entrepreneurial superhub that will give our start-ups every opportunity to become world industry disruptors," he added.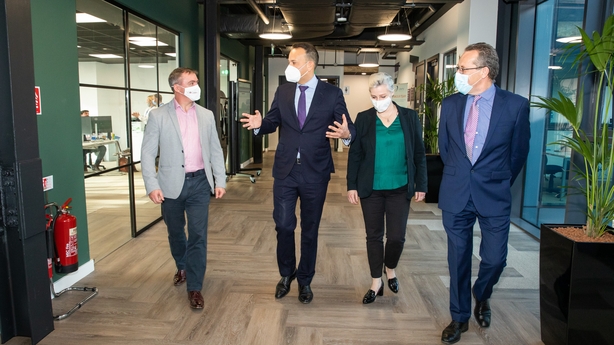 Tánaiste and Minister for Enterprise, Trade and Employment Leo Varadkar said that by providing the space and network for start-ups to thrive, entrepreneurship and innovation are being brought into the heart of Dublin city to provide the right environment for the creation of world-leading Irish companies.
"The Guinness Enterprise Centre is one of the top incubators in the world. This investment will support 3,000 more jobs over the next five years," the Tanaiste said.
"I'm excited to hear about the success of the companies who originated here in the future and I want to pay tribute to the GEC team for their vision and dedication in bringing the Centre to the next level," Mr Varadkar added.
GEC graduate companies include cyber telecoms security company AdaptiveMobile Security, which was acquired for €45m this year and cryptocurrency start-up, Circle, which was recently valued at almost $3 billion as well as cloud software company, Qualio, which raised $50m in funding earlier this year.
Current residents include gaming studio Black Shamrock, which now employs more than 80 people; and digital health software company, Wellola, whose co-founder Sonia Neary was a finalist in the global Women in Tech Awards in Paris in 2019.
Others include Selio Medical, Volograms, Benetel, Examfly, Kinia and Amnexis Digital Solutions.