The operator of the national grid has said the goal for Ireland to run on 70% renewable electricity by 2030 is "technically possible to achieve" but the process will be "complex and uncertain."
In a document based on a 14 week consultation with the public and industry, Eirgrid has identified 43 new grid projects needed for the transition which will require an additional €1billion investment.
The demand for electricity in Ireland is forecast to increase by 50% by end of this decade.
Half of that new demand will come from households as heating systems and cars switch to electricity. Half is forecast to come from big energy users like data centres.
Eirgrid received almost 500 responses from the public and 80 responses from industry on its plans to move Ireland's grid to one where renewables generate 70% of our electricity, backed up by gas.
It intends to maintain this level of consultation through the establishment of regional energy citizens' assemblies.
However, its report warns that some new grid is required and this may include new pylons but it aims to engage intensively with local communities.
It also says the Commission for the Regulation of Utilities must ensure that 2 gigawatts of flexible gas generation to backstop the transition happens as soon as possible.
We need your consent to load this rte-player contentWe use rte-player to manage extra content that can set cookies on your device and collect data about your activity. Please review their details and accept them to load the content.Manage Preferences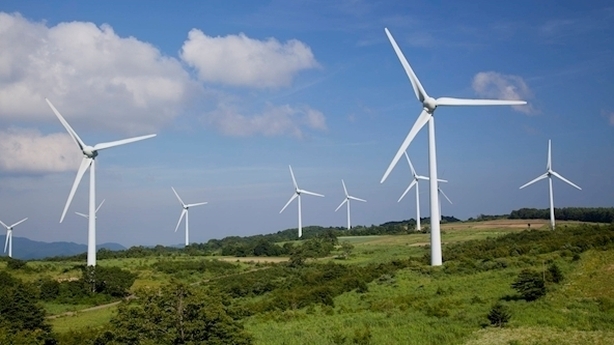 The report, entitled 'Shaping our Electricity Future Roadmap', outlines how much additional electricity generation it expects will be built over the next nine years.
It expects 5 gigawatts in offshore wind power, with most located in the Irish Sea.
It is also planning for an additional 2.4 gigawatts in onshore wind power, which is almost half again of what is already installed across the island of Ireland.
It is making plans for 1.3 gigawatts of large scale solar power and 600 megawatts of micro-generation, which includes domestic solar panels.
Large scale battery installations are expected to contribute 1.65 gigawatts of storage.
It says the grid will have to be expanded which will include upgrades to existing lines, new technologies, more overhead lines and a 'big increase' in underground lines where they are 'technically feasible.'
The €1 billion in investment is in addition to €2.2 billion already allocated to grid projects.
Eirgrid says it "anticipates" that some new large energy users, like data centres, will locate in regional towns and cities.
It describes the planned move towards renewables as "...the most radical transformation of the grid since rural electrification."
Speaking at the launch of the plan at the COP26 Climate Summit in Glasgow yesterday, Minister for the Environment, Climate and Communications Eamonn Ryan said: "The quicker we build this the better for our country, and not just for climate, but for employment, for keeping money in the country, reducing the amount we're spending on fossil fuels, for getting security, secure energy and secure electricity supply so this is hugely significant, hugely important."
RTÉ provides a daily update from Eirgrid on what fuel sources are powering Ireland's electricity system. It can be viewed here.