Average rents for residential properties were 6.8% higher in the third quarter of the year compared to the same period in 2020, according to the latest rental report from the website Daft.ie.
The average asking price for monthly rent between July and September was €1,516.
That is up 2.6% on the first quarter of this year and more than double the low of €742 per month seen in late 2011.
---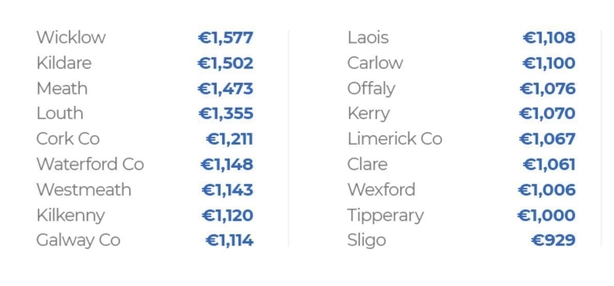 ---
The lowest average rent was €742 in Leitrim.
According to the report, the increase in rents around the country reflects an ongoing and unprecedented scarcity of rental homes.
At the start of this month, there were just 1,460 homes available to rent, according to Daft.
That is an all-time low, since the figures started to be collected back in January 2006.
While Dublin had initially seen an increase in availability after the start of the pandemic, there were just 820 homes available to rent on 1 November.
That is the lowest ever recorded for the city in two decades.
In Dublin and in the other cities, the stock of homes to rent is between 70% and 80% lower than a year ago.
Outside the cities, availability continues to fall, with just 559 homes to rent, down almost half on a year ago.
---
---
"While some argue against the construction of large numbers of purpose-built rental homes, any solution to the chronic shortage of rental homes in Ireland must include building new ones," said Ronan Lyons, economist at Trinity College Dublin and author of the Daft Report.
"In this regard, the pipeline of almost 45,000 new build-to-rent homes - while concentrated in the Dublin area - is particularly welcome. More than 50,000 more rental homes have been proposed.
"Their construction would help improve the availability and affordability of rental homes, something for policymakers and planners to consider."
Professor Lyons told Morning Ireland that tens of thousands of rental properties will come on stream in the greater Dublin area over the coming years and this will ease pressure because it is an area that has not seen any new rental properties built over the last ten to 15 years.
We need your consent to load this rte-player contentWe use rte-player to manage extra content that can set cookies on your device and collect data about your activity. Please review their details and accept them to load the content.Manage Preferences
In the meantime, he said, people will respond by having more tenants in each rental property or people will stay, if they can, living at home with their parents and family.
Responding to the report, the Institute of Professional Auctioneers & Valuers (IPAV) said the figures demonstrate a severe and diminishing lack of rental properties to meet demand.
IPAV Chief Executive Pat Davitt said they believe further rent controls are not the answer but increasing the supply of homes for rental and for purchase.
"This is critical from a social and economic perspective," he said.
Mr Davitt said construction costs must be reduced.
"This is something we've been seeking for several years at this stage.
"The issue of building homes at affordable prices remains to be tackled and the Government's housing plan must deliver on this," he said.
Mr Davitt said this includes tackling the "major impediments" in the planning process, as well as the tax treatment of housing.
He has previously called for the rental market to be reviewed in its entirety.