Revenue is to extend the deadline for property owners to file their Local Property Tax returns until 5pm on Wednesday.
The decision comes as large numbers of people continue to seek further clarity about the self-assessment valuation process for their property tax ahead of the original deadline of this Sunday.
Revenue said so far more than a million of the expected 1.8 million returns have been received.
It has received 250,000 of those over the past three days alone.
Revenue said that returns have now been filed for an estimated 54% of expected liable properties.
It noted that of the owners of single properties, an estimated 52% have filed their returns, while for owners of between two and nine properties, the returned share is estimated at 56%.
For owners of 10 or more properties, the estimated returns filed rate is 14%, it added.
Revenue said that €71m has already been paid in LPT for 2022, while €273m in new payment arrangements have been put in place for 2022.
The latest figures from Revenue today show that just over 31% of home owners have valued their homes in the €0-€200,000 range, while at the other end of the scale 0.2% have valued their homes at over €1.75m.
Most homes have been valued at between €200,001-€262,500 with 21.4% of home owners saying their home was valued in this band.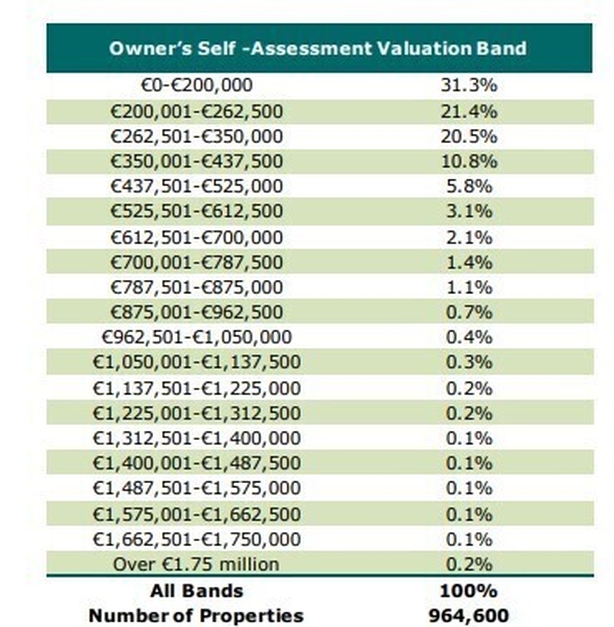 Revenue said that 51.7% of homeowners decided to pay their LPT by annual or monthly direct debit, while 27.1% chose to pay by credit or debit card.
However, many people appear to remain unclear about how to complete and submit the self-assessment valuation process for their property.
In the last three days alone, 80,000 calls were made to Revenue's local property tax helpline and 15,000 items of correspondence were received by it on the issue.
Revenue said it expects this high level of engagement to continue to increase further in the coming days as property owners make every effort to comply with their obligations.
"LPT requires property owners to submit a return to Revenue and we are very conscious that this can cause a degree of worry and stress for property owners who do not have a reason to engage directly with Revenue on an ongoing basis," it said in a statement.
"Revenue is also very conscious that this is the first revaluation for LPT since it was first introduced over 8 years ago."
As a result, the tax collector has decided to extend the filing deadline to 5pm next Wednesday, 10 November 2021.
It also said that property owners who have submitted a written query via its website or by post about their 2022 property tax obligations in advance of the filing date, will be treated as having complied with their requirements on time, provided they file their return promptly as soon as their query is resolved.
The new valuation will determine the amount of property tax a property owner will pay for 2022 and for the three years from 2023 to 2025.
In particular, some property owners appear to be concerned about what will happen if the valuation submitted is not accurate.
Revenue said the quickest and easiest way for property owners to submit their return is online via myAccount, ROS or the local property tax online portal.
Its LPT helpline is also to operate extended opening hours in the days leading up to the extended deadline. It can be contacted at 01-7383626.
An interactive tool and information is available on Revenue's website to help determine the value of a property.