A new survey shows that 46% of SMEs that trade across the border are reporting higher sales in the third quarter of this year compared to 35% of their non-exporting peers.
InterTradeIreland's latest Business Monitor shows that the wider economy is within touching distance of recovering to pre-pandemic levels, despite significant issues and specific sectoral challenges.
The survey shows that 81% of companies are in stable or growth mode, with cross-border traders in particular leading the way forward.
Businesses that trade with the opposite jurisdiction are seeing a quicker return to profitability than those with no export sales, and they are experiencing faster sales growth, InterTradeIreland said.
InterTradeIreland's Acting Director of Strategy and Policy Kerry Curran said that while Covid-19 is still casting a long shadow, in particular for sections of the leisure sector, the impact of the pandemic has lessened slightly as both economies have started to open up again.
Ms Kerry said that 65% of firms cited the pandemic as the main issue this quarter, compared to 78% in the previous quarter.
But she also said that there are a number of other issues that are starting to weigh heavily on firms.
These include the rising costs of overheads, increasing energy bills, the impact of Brexit and recruiting the correct skills are all issues for businesses.
Rounding out the top six worries for firms are concerns over logistics," she added.
InterTrade Ireland said that post-Brexit, the number of firms who say they have taken steps to adapt to the new landscape is very heartening.
Over 80% of businesses who said that they had been impacted by Brexit state they have adapted to some extent to the new trading relationship. Within that figure over a quarter say they have adjusted in full.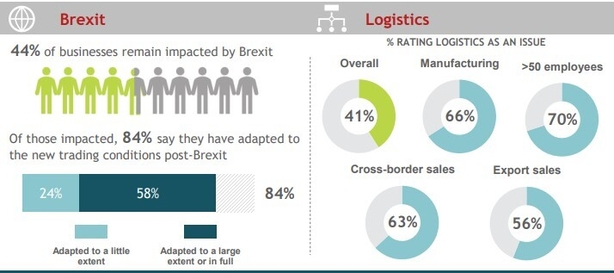 But Kerry Curran pointed out there is still a significant issue around the number of firms exporting generally.
"Three quarters of firms are still not exporting and that remains a challenge for the economies on the island. For firms to see real, sustained growth they need to find new markets," she stated.
She added that InterTradeIreland has a number of supports in place to help SMEs take their first export steps on the island.