A €6.7m expansion of NovaUCD, the centre for new ventures and entrepreneurs at University College Dublin (UCD), was officially opened today.
The project involved the renovation and expansion of NovaUCD's East Courtyard and will see the centre increasing its capacity to house high-tech start-ups with global ambitions by over 50%.
The new facility includes more than 20 business units and laboratories and a new co-working space.
NovaUCD said it can now support over 450 founders and their teams.
NovaUCD has to date supported over 400 companies and early-stage ventures including companies such as BiancaMed, Carrick Therapeutics, Corlytics, Equinome, Life Scientific, Logentries, MagGrow, NovoGrid, OncoMark, OxyMem, Supernode, Terra Solar and Vivid Edge.
NovaUCD supported companies have to date raised over €775m in equity funding and employ thousands of people directly and indirectly between them.
Attending today's opening, Taoiseach Micheál Martin said that since opening in 2003 NovaUCD has become one of the leading hubs in Ireland's start-up ecosystem supporting ambitious entrepreneurs and innovative high-tech companies.
"With NovaUCD's strong track record, and now with its significant increase in capacity, I am sure it will continue to flourish in the future as it continues to assist entrepreneurs who want to locate at NovaUCD and leverage its excellent facilities, accelerator programmes, expertise and network to help them to grow and scale their start-ups on the global stage," Mr Martin said.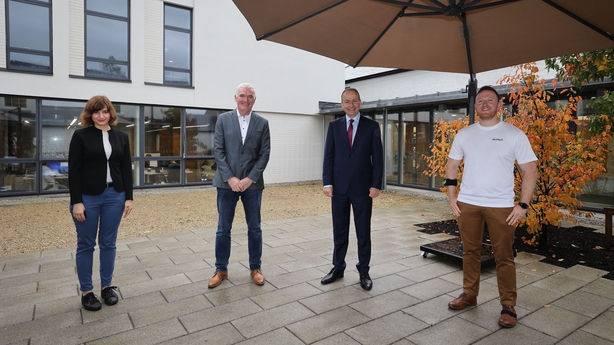 During a tour of the facility the Taoiseach received technology demonstrations from a number of start-ups already located in the new wing including, Equal1 Laboratories, Manna, Output Sports and PlasmaBound.
Equal1, Ireland's first quantum computing company, has secured over €10m in initial funding to accelerate the introduction of the world's most compact and cost-effective quantum computers.
Manna, which has already secured over $35m in funding from international venture capitalist firms, is now planning on raising a further $50-$100m in additional funding next year to expand its drone manufacturing capability and scale its drone delivery service across Ireland.
Output Sports has to date secured clients in over 18 countries around the world across more than 30 sports for its technology to test multiple components of athletic performance and track training programmes, using a single matchbox sized wearable sensor.
PlasmaBound has developed a novel surface bonding pre-treatment technology to enable global manufacturing industries, including the aerospace/space industry, to reduce product weight and meet fuel efficiency and carbon emissions requirements.
Tom Flanagan, UCD Director of Enterprise and Commercialisation, said that over the last few years it has doubled the number of start-ups created from UCD research, while it has supported them to more than triple the seed investment they attract.
"We have also increased the number of accelerator programmes we run with partners such as the European Space Agency, Ericsson, Vodafone, Enterprise Ireland and IADT Media Cube, so the timing is right for this expansion," he added.