The chief executive of forecourt retailer Maxol has said the company is concerned it is going to be hard to meet the demand for charging electric vehicles until there is additional power capacity put into the grid.
Brian Donaldson also called for a "united taskforce" and "real collaboration" between the Government and stakeholders including traditional forecourt operators about that capacity and access to the grid, with a clear strategy including objectives and timelines.
Mr Donaldson said 33% of all new car sales are either full battery or plug in-hybrid and from Maxol's perspective the transition will happen, driven by Government incentives.
He said although electric cars are currently more expensive to buy than those with internal combustion engines, in two to three years they will be fairly comparable.
But he said the anxiety in terms of charging infrastructure remains the big negative coming through in the market research.
"At this moment in time the charging infrastructure is not there," he claimed.
He said Maxol is trying to play a leadership role with Government to ensure all stakeholders are working together to come up with the right solution.
But everyone is aware of the grid capacity issues, he added.
"Genuinely we have a big concern that until there is additional power generation capacity put in, it is going to be a challenge to meet the increased demand from electric vehicles," he stated.
Mr Donaldson said he does accept that things can be done in terms of battery storage and use of renewables to generate that power.
"But at this moment in time it isn't there," he claimed.
He said Maxol has already started discussions with NIE Networks in the North and ESB in the Republic of Ireland about the need for power at the right access points and where power is available.
"There is no point in having power in the wrong locations, people won't use them," he said.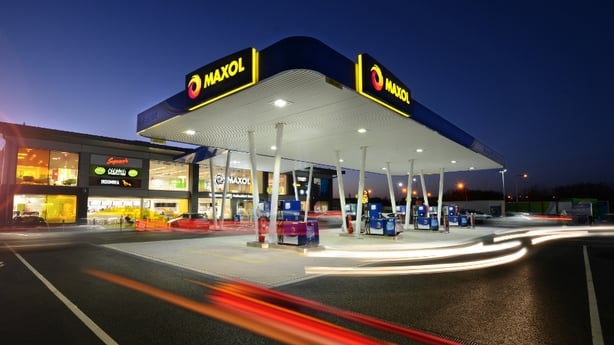 He said the conversations centre around identifying where the power is available, whether it is close to Maxol's locations, if it is not then how do they get it there and how is the investment cost of putting in cabling and ducting shared.
Maxol wants the Government to cover the cost of getting power into the grid and to the right access locations on their or other's forecourts. Maxol as a private business will then invest in the equipment, maintaining the service and in a payments platform, he claimed.
The company plans next year to develop eight electric vehicle charging hubs, provided the power is made available and there is access to it in the locations, three of which are in the Republic and five in the North.
These would have at least three 150KV chargers on site and Mr Donaldson said Maxol has already developed branding and a payment platform for them.
"It is very challenging and it is going to be very capital intensive," he said.
Mr Donaldson was speaking as the company revealed Maxol had made an overall profit before exceptionals of around €17.1m last year, a drop of 7.5% on the previous year.
This was despite a 23% drop in turnover during 2020 compared to 2019, as a result of the impact of the pandemic.
Mr Donaldson said this was a strong performance in the circumstances and while the retailer had lost a lot of fuel sales, it picked up on food sales, while car wash receipts were also 10% stronger.
Overall, he said, most sites have now returned to 90-95% of pre-pandemic volumes.
The company intends to increase its investment next year to €20m across the island, up from €7m this year.
He said Maxol had successfully opened two Burger King outlets in its service stations with one more on the way.
It will also be lodging planning applications for 11 more across its network in the south over the next three years.
The firm is also trialling an Apache Pizza outlet in its filling station in Donabate in North County Dublin and has plans to open another in Ballinteer in Dublin early next year.
But Mr Donaldson called for a relaxation of the retail planning guidelines in the south to make it possible to build larger retail outlets on forecourts.
He said there had been more supply chain issues in the north than in the south, which may be due to the Northern Ireland protocol, adding that more cost, more regulation and more bureaucracy only leads to empty shelves.
Mr Donaldson said there is a massive labour shortage in the market and Maxol's operators are finding that too, with a big skills gap in the sector as people have left it.
This is also leading to wage inflation for retailers, he added, with other costs also increasing, including in the price of oil.