Ireland had the second highest mortgage interest rates across the euro area in August, new figures from the Central Bank show.
The average interest rate on new mortgages in Ireland stood at 2.74% in August, down 9 basis points on the same time last year.
This compares to the euro area average rate of 1.27%, although the rate varied considerably across countries.
Greece is the only euro zone country to have higher rates than Ireland, the figures show.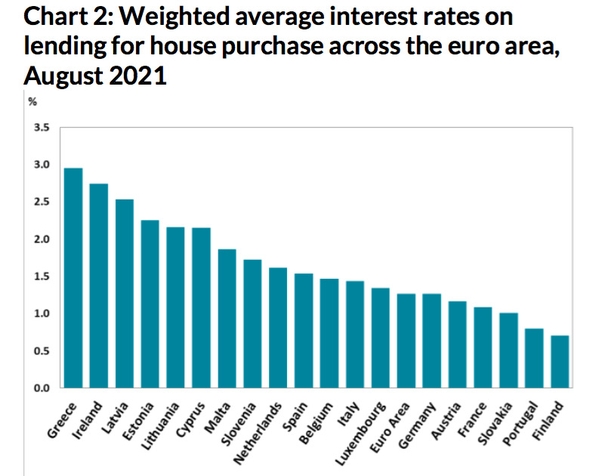 The average interest rate on new fixed rate mortgage agreements dropped by four basis points to 2.62% in August, according to the Central Bank figures.
Fixed rate mortgages accounted for 80% of new mortgages during the month.
For new variable rate mortgage agreements, the bank said the average interest rate stood at 3.31%, down 15 basis points on the same time last year, although volumes agreed remain quite volatile.
Meanwhile, the volume of new mortgage agreements amounted to €704 million in August.
This represents an increase of 50% on August 2020, when volumes had declined significantly following the onset of Covid-19, and a 2% decrease compared with July 2021.
Reacting to the figures, Trevor Grant, Chairperson, the Association of Irish Mortgage Advisors said while Ireland's rates remain high, we are seeing a steady reduction in rates offered by various providers.
"This is likely to continue as the cost of credit remains low and as competitors vie for business from Irish mortgage customers," he said.
Mr Grant said that Irish mortgage holders have been slow to switch lenders in the past, in search of better rates, but this trend is changing.
"This movement towards switching has also been fuelled by non-bank lenders now offering rates from 1.95%, as well as fixed rate mortgages for up to 30 years, combined with flexible overpayment options and the potential to transfer the mortgage to another home in the future.
"The combination of lower monthly repayments and the security in knowing that payment is fixed, is proving difficult for many homeowners to resist," he said.
Based on current inflation figures, Mr Grant said a rate increase is possible within the next 12 months.
"However, nobody can accurately forecast interest rates and the current rising inflationary trend may reverse within the next 6 months or so, and either way competition in the market is likely to remain strong" he said.