New figures from the Central Statistics Office show that the seasonally adjusted household saving rate fell to 21% in the second quarter, down significantly on the first quarter rate of 30.4%.
But the saving rate still remains around twice the long term average rate.
The CSO noted that consumer spending returned to more normal levels in the second quarter of the year as some of the Covid-19 restrictions that had been imposed after Christmas were lifted.
It said the change in saving was mainly as a result of higher consumer spending with consumption almost back to its 2019 levels.
While some opportunities for consumption were still restricted, the opening up of more shops may have led to releasing "pent up demand", the CSO said.
It noted strong growth in clothing, footwear, furniture and in cars - albeit from a low base. Supermarkets, which had been doing well under the restrictions, remained steady.
---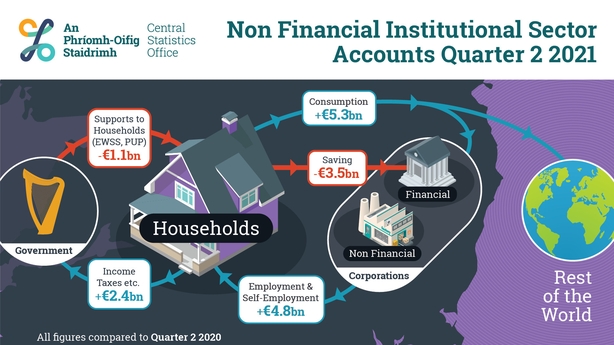 ---
The CSO also said that workers' earnings increased in the quarter as businesses re-opened.
Total compensation was above 2019 levels, the last equivalent quarter before the pandemic.
Construction returned to its 2019 levels, the CSO said.
But activities such as transport, retail and wholesale trade, arts and entertainment, which recovered significantly compared to 2020, remained below their pre-pandemic levels of total labour costs.