Retail sales volumes saw a return to monthly growth in August after a brief dip in July, rising by 3.5% with bar and department store sales increasing sharply.
New figures from the the Central Statistics Office show that volumes were 6% higher than in the same month a year ago, when the economy was between Covid-19 lockdowns.
The figures were also 14.8% up on pre-pandemic levels in August 2019, continuing the trend of the last two months, the CSO.
August saw the largest monthly volume increases in sales of Books, Newspapers & Stationery, which jumped by 48.7%. Bars sales rose 31.9% and sales in Department Stores increased by 20.2%.
The sectors which experienced decreases in the month were Non-Specialised Stores - which includes supermarkets - and sales of Pharmaceuticals, Medical & Cosmetic Articles.
The CSO also said that compared to August 2019 - pre-Covid-19 - most sectors have higher sales than two years ago.
The highest increases were seen in Motor Trades, Electrical Goods and Department Stores.
But two sectors had lower sales volumes. Bars sales are 27.6% lower than their 2019 levels, while sales of Books, Newspapers are Stationery are also 13.4% lower.
---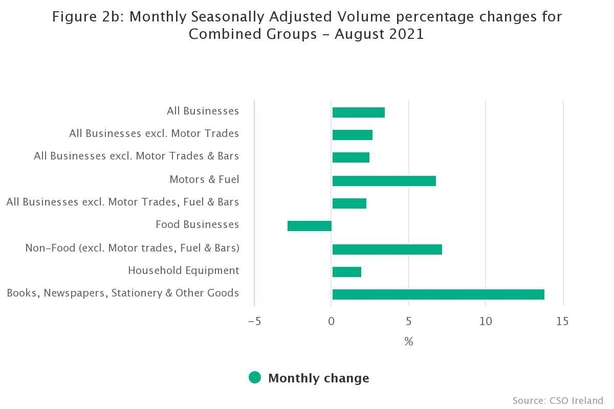 ---
Today's CSO figures show that the proportion of retail sales transacted online (from Irish registered companies) stood at 4.9% in August.
This was little changed from the figure of 4.8% in July of this year and 4.5% for August last year.