Visa has launched its 'She's Next' programme in Ireland, which aims to provide support for small businesses owned by females.
Ireland is the first country in Europe to take part in the programme, which has awarded €1.25 million in supports to date to businesses right across the world.
Visa is encouraging women entrepreneurs in Ireland, in all industries and sectors, to apply for one of five €5,000 grants.
Speaking on Morning Ireland business, Dominic White, Ireland Country Manager with Visa said the winning businesses will also be awarded mentorship and coaching from IFundWomen for one year to support them with moving their business forward.
"We think one of the most valuable things that you can get as a small business is coaching," he said.
We need your consent to load this rte-player contentWe use rte-player to manage extra content that can set cookies on your device and collect data about your activity. Please review their details and accept them to load the content.Manage Preferences
Mr White said there are five categories under which businesses can apply - micro business, early-stage business, small business, innovation and social impact.
Gender inequality
New research by Visa shows that many women business owners have been disproportionately impacted by Covid-19, with over 50% finding the past year a challenge.
The data reveals that in Ireland, there are nearly double the number of men for every woman who is an early-stage entrepreneur, which is well above the average across the OECD.
According to Mr White, gender inequality in entrepreneurship is not a new phenomenon.
"Visa wants to spotlight and address the challenges faced by women and the gender imbalance that still exists in early entrepreneurship.
"To ensure they get the support needed, we are committed to providing the tools, resources, insights and networking opportunities that can help them grow their businesses,"he said.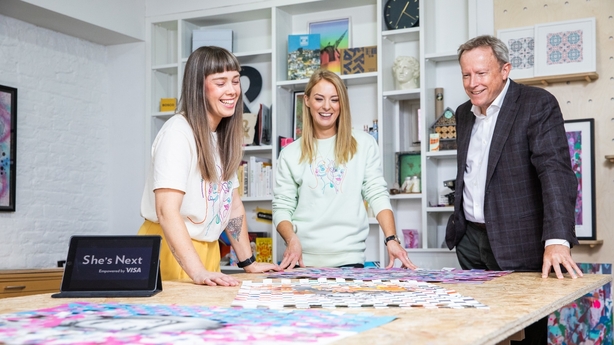 Female designers behind the Irish creative brand Jill & Gill are also getting behind the She's Next programme.
Jill Deering, co-founder of the company, said they believe more supports are needed in Ireland to empower women.
"We are regularly approached by women entrepreneurs who are looking for guidance and advice on where to go for supports for their business, whether they are at idea stage or further down the line.
"We welcome more structured programmes aimed at women business-owners in Ireland," she said.
The 'She's Next' programme is open to small businesses and organisations who are majority owned by women.
Applications are now open until 2 November 2021 at IFundWomen.com/VisaIreland.