Bank of Ireland has blamed state-imposed curbs on bankers pay and bonuses for the announcement that its chief financial officer Myles O'Grady is to leave the bank to move to a job with the Musgrave Group.
Myles O'Grady is moving from the financial sector to the owner of Supervalu, Superquinn and Centra and will take up his new role as chief financial officer of the wholesale and retail group in April of next year.
Bank of Ireland said that Mr O'Grady is expected to leave the bank next March and a process to appoint his successor will now start.
In the meantime, he will remain in his role for the coming months, the bank added.
Mr O'Grady joined Bank of Ireland in June 2019 as Finance Director Ireland and was appointed CFO in October 2019 and a member of the Board in January 2020.
Bank executives' pay was capped at €500,000 a year during the euro zone's costliest banking rescue more than a decade ago.
All forms of variable pay and fringe benefits for even junior bank staff were also banned, but lenders here have complained that these caps impeded them in attracting and retaining talent.
Bank of Ireland's group chief executive Francesca McDonagh said the pay cap had left the bank at a competitive disadvantage to other companies and fellow members of the stock exchange which are not restricted in the same way.
"Myles' decision to leave the Irish banking sector highlights the challenge that remuneration restrictions represent for Irish banks in attracting and retaining talent," McDonagh said in a statement.
"The normalisation of our operations is now vital to the long-term sustainability of the indigenous banking sector," she said.
Mr O'Grady will remain in his position until his expected exit in March 2022, the bank said.
His predecessor, Andrew Keating, left the bank two years ago to take up a senior financial role at Irish building materials supplier CRH.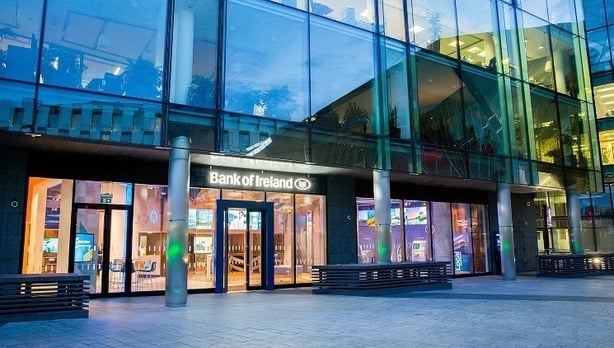 In 2018, former AIB Chairman Richard Pym described Ireland's banks as a training ground for rivals after his bank lost its chief executive and chief financial officer within weeks.
The Government, which pumped €64 billion or almost 40% of annual economic output into its banks following the 2008 global financial crisis, has said it has no plans to ease the restrictions.
It still retains a majority stake in AIB and Permanent TSB and is selling down its 12% holding in Bank of Ireland.
In today's statement, Bank of Ireland CEO Francesca McDonagh said that since joining Bank of Ireland, Myles O'Grady has provided exceptional financial leadership to the group.
Ms McDonagh said he helped steer the bank through the Covid-19 pandemic, overseeing a return to profitability in the first half of 2021.
Before his job at Bank of Ireland, Mr O'Grady held senior roles at Citibank, Bord Gais and AIB Group.
He is also a non-executive director of New Ireland Assurance Company and is a Fellow of the Chartered Association of Certified Accountants.
Noel Keeley, Musgrave CEO, said he was pleased to welcome Myles to Musgrave as CFO following a comprehensive recruitment process.
"As one of Europe's leading family-owned businesses we are committed to delivering long-term sustainable growth," he said.
"Given Myles' experience in senior financial and business leadership roles he will be a fantastic asset in helping us achieve our ambitions, " he added.
Shares in Bank of Ireland were higher at close of trade this evening, up 1.9% to €5.13.