We stopped and took stock and wondered, 'What's it all about?'. The Covid-19 pandemic made us reassess our lives and question what matters to us most.
It also made us re-evaluate the role of work in our lives.
The shift in values caused by the pandemic, encouraged some workers to pursue other opportunities, but for others, the way their employers treated them during the pandemic pushed them to consider handing in their notice.
It has been called the Great Resignation and there is evidence of it in the US and the UK, but while there is lots of movement in the Irish jobs market at the moment, there hasn't been a mass exodus of employees.
CIPD Ireland is the representative body for HR professionals. Its Director, Mary Connaughton, said while it is not seeing groups of employees walk off the job together, there are a lot of movement and resignations happening across the workforce and its members are saying that employee turnover has increased.
"Job security became more important during the pandemic, and now that opportunities have opened up again, people are taking advantage of that."
A Microsoft survey of more than 30,000 global workers showed that 41% of workers were considering quitting or changing professions.
The results of a survey of Irish workers conducted by the Work Futures Lab at the Kemmy Business School were identical, with 41% of 1,000 workers saying their future career lies outside their current organisation.
"To me that's a very, big red flag," said Dr Sarah Kieran, Lecturer in the Department of Work and Employment Studies at UL.
The results were uniform across sectors regardless of whether people were working with a multinational, an indigenous company, a public sector company or a small business.
Similarly, a recent study from Workhuman revealed that almost half of Irish workers - 42% - intend to resign from their jobs within the next 12 months. Before the pandemic, just 21% said they wanted to switch careers.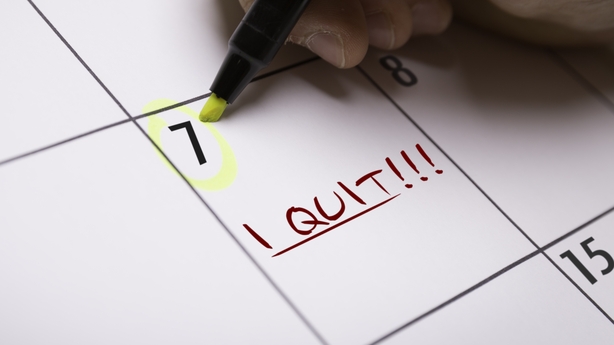 The number one reason given for wanting to change roles is to gain more workplace flexibility, with 36% of male job seekers citing this reason. In comparison, female workers' principal motivation is better pay.
"It's almost like people have this desire to stop and reflect," Dr Kieran said.
"Society is having a massive rethink about what work means now. I think people are putting their hands up here and saying, 'I'm stopping and taking stock, and as I move out of lockdown and back into the office, I am watching and waiting because while there are so many good things happening in my company. I'm probably feeling a bit overwhelmed and burnout from work over the last 18 months', and they're questioning that."
The statistics from the various surveys are not hard evidence of an imminent Great Resignation but they are surely proof of a Great Reflection.
HRLocker, a provider of HR software solutions based in Lahinch, Co Clare, has seen a 30% increase in the number of jobs advertised on its platform.
Companies are not increasing their head count, "so that would indicate to me that people are not recruiting because of growth, they are recruiting because of people leaving," said Crystel Rynne, Chief Operating Officer, HRLocker.
She acknowledges that there has not been a lot of movement in the jobs market over the past 18 months so some of the movement was pent-up and would have happened naturally.
However, she said she believes the biggest reason why people are leaving their jobs is because they are from a generation that expects more from their employer and they find it easier than previous generations to switch jobs.
"Millennials are now between the age of 25 and 40 which would make up almost half of the workforce. Millennials, at this stage of their lives, expect more from companies, they expect more in terms of a work life balance. I think a lot of companies have to catch up, that it's not salary based."
While earning a living from work is clearly essential, a sense of purpose is becoming increasingly important for people in terms of the kind of work that they do.
We all became familiar with the terms 'frontline workers' and 'essential workers' during the pandemic. Dr Kieran said a lot of people really built up a sense of identity and purpose as essential workers.
"For the rest of us, a sense of purpose can be just about feeling that our work is meaningful for our company and getting a sense of reward and purpose from being part of that organisation," she said.
Dr Kieran gives the example of pharma and medical devices companies, which are very good at building a sense of purpose among their workforces.
"Even if you are working on an assembly line, you identify with the task you do, and you see how that links into the greater good for health and well-being generally," she said.
The reasons that employees are leaving, according to CIPD Ireland's research, is because they are looking for different careers and different ways of working. People do not want to feel forced to face a traditional workplace-based way of working, they want flexible and hybrid working options, Ms Connaughton said.
"Many of our members are moving to a hybrid working model as part of their approach to retain and attract talent. They need to urgently communicate what this means to employees, and have a dialogue with each employee about what their choices will be."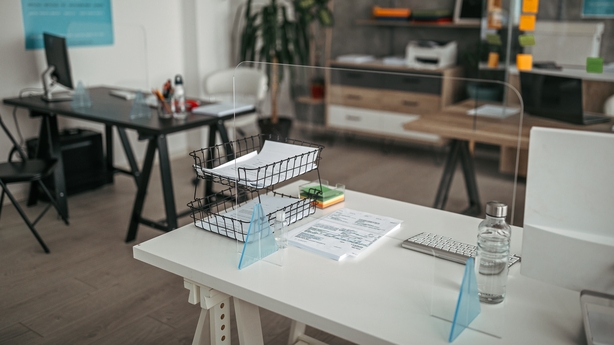 Ms Connaughton said employers need to understand where the pressure points are in the business and take action to relieve it for the individuals involved.
She said: "They also need to look at how jobs are structured, and bring in changes so they can provide more training and career opportunities in their company. There is also pressure on pay in some sectors, so they need to review how competitive their pay and benefits offering is."
Facilitating hybrid working has emerged as the key to retaining staff in what is now an employees' market.
"Having to get a job in Dublin because the work is in Dublin - that day is gone," said Ms Rynne, COO of HRLocker.
"It doesn't matter where I am located, I can find a job anywhere and do it remotely. Companies need to catch up or another company is going to take their employees."
"There's no doubt about it, people want flexible work and not just remote work," Dr Kieran said. "They want flexitime like starting early and finishing early or a four-day week."
She described being "frankly shocked" by some stories she has heard recently of people who were turned down when they requested flexible working arrangements. In one case, a woman said her manager was shaking his head before she finished asking if he would consider allowing her to work a four-day week.
"While the Government will have a push for flexible working and we have the right to request it, what good is the right to request if somebody is shaking their head at you before you've even finished the conversation?
"I think there are these stalwart business managers, who still believe in that kind of control management environment where if people are not in front of you then they are not working properly. I think that's what that 41% red flag is."
She said if they don't get flexible working arrangement, and if there's a position elsewhere, "then they absolutely will leave".