Bord Gáis Energy has become the latest gas and electricity supplier to announce an increase in its residential prices, citing "all-time high" energy costs.
From 24 October, it says a 12% increase in its gas unit rate and standing charge will see a typical gas bill go up by €8.16 per month, while a 10% increase in the electricity unit rate and standing charge will equate to an extra €10.26 per month on the typical bill.
It is Bord Gáis Energy's third residential energy price hike this year. In April the company increased electricity prices by 8%. Then in August its electricity price went up again, this time by 12.5%, and its gas price increased by 14%.
In a statement, Managing Director Dave Kirwan said it was "experiencing an extremely uncertain energy market right now."
"We regret that we have to pass through a price increase at this time", he said, and committed to holding to the new prices until Spring 2022.
Soaring energy costs have led to price hikes across the country's energy suppliers, according to price comparison website bonkers.ie.
"There are 14 energy suppliers in the Irish market at the moment. Since the start of this year we have seen around 30 or more price hike announcements," said Daragh Cassidy, its Head of Communications.
"Most suppliers have raised prices once, some twice, some suppliers have even raised prices four times," Mr Cassidy told RTÉ News, adding that there are a number of factors contributing to this.
"The price of gas has absolutely skyrocketed on wholesale markets in the past few months... up over 200% in the past few weeks alone," Mr Cassidy explained.
"That feeds through into higher gas prices. It also feeds into high electricity prices as we use gas to generate a lot of our electricity."
Mr Cassidy said there had also been "a lack of wind output over the past few months."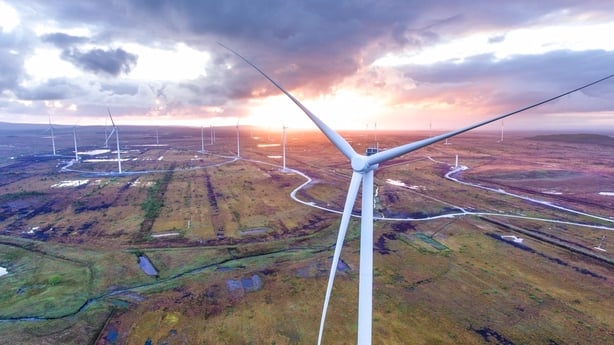 "It has been a relatively calm autumn and summer and that means there has been a lack of renewable energy on the grid," he explained.
He also said that having two gas-fired power plants currently out of action, Whitegate in Cork and Huntstown in Dublin, is also having an impact, as these supply "around 15% of our electricity.
Yesterday the Commissioner for Regulation of Utilities, Aoife McEvilly, said that customers can expect to see combined gas and electricity bills rise by around €500 this year.
It has led to calls for increased protections to be put in place for those on low incomes.
The Society of St Vincent de Paul is concerned that soaring energy costs will push more families into "energy poverty."
"We know that the pandemic has hit low households harder," Head of Social Justice & Policy at SVP, Tricia Keilthy said.
"We already saw that we had a 10% increase in our calls in August from families really struggling with 'back to school' costs and now we're facing into a very difficult winter where families are really going to struggle to meet these energy costs," Dr Keilthy said.
SVP is calling for a "strong and significant intervention" to support these families in next month's budget.
"We would like to see the fuel allowance extended from 28 weeks to 32 weeks and we'd also like to see eligibility looked at," Dr Keilthy said, adding "many households who are experiencing energy poverty don't qualify for the fuel allowance, we'd like to see it extended for example to people in receipt of the working family payment."
Age Action is also calling for the eligibility criteria for the fuel allowance to be revised, in the face of climbing energy costs.
"It is clear that the vast majority of people aged over 65 do not benefit from Fuel Allowance so the eligibility criteria need to be expanded to take account of rising cost of fuel prices and the effect of Carbon Tax", Nat O'Connor, Public Affairs and Policy Specialist with Age Action said in a statement.
"Most older people rely on the State Pension and other social welfare payments for approximately 70% of their income meaning that they simply cannot cope with the rising costs of living, including fuel' said SVP is also calling for social welfare rates to be increased," Ms O'Connor added.
Speaking in New York this week, Taoiseach Micheál Martin said the Government was concerned about rising energy prices, and that measures would be included in next month's budget to help protect people with lower incomes.