The Government has no plans to change its schedule for unwinding the Pandemic Unemployment Payment, Tánaiste Leo Varadkar has said.
Mr Varadkar said while he understands that some employers are finding it hard to find staff and want to see the payment wound down quicker, other sectors including aviation, the arts and entertainment industries are still relying on it.
Speaking on RTÉ's News at One, Mr Varadkar said "we have to balance the two concerns and the Government has set out a schedule to unwind the payment between now and the early part of next year and we are not planning to change that".
He said there were 600,000 people in receipt of the PUP at the peak of the pandemic and this has now dropped to 100,000.
Mr Varadkar said that "the churn of migration" has slowed down and many migrant workers were not able to travel as a result of restrictions on air travel. He said this should soon change and a new work permit system is being streamlined to make the visa situation better for migrant workers.
Retail Excellence said the process of winding down the Pandemic Unemployment Payment needs to be accelerated, in order to help address acute shortages in staff being felt in the retail and other sectors.
Chief executive Duncan Graham said the situation has become very serious since the start of the easing of restrictions.
"If you talk to recruiters around town, they'll tell you there is an enormous shortage, they have a huge number of vacancies, across all levels in fact - in retail particularly - and it has been very, very difficult to fill those," he said.
Mr Graham said a lot of people left the industry during the height of the Covid crisis, as non-essential retail was closed during nine of the last 18 months.
He added that many migrant workers chose to return home during the pandemic and have not returned.
With over 17,000 retail workers still claiming the PUP, Mr Graham said the feeling among retailers is that the wind down, not due to be completed until February, should happen faster.
"We really need these people back into work prior to the Christmas peak," he claimed.
"I think what we are now seeing is stores looking and seeing are they going to be able to trade some of the hours that they would normally do over the Christmas period, because simply they don't have the people," he said.
Offbeat Donuts is one of countless retailers experiencing the challenges of attracting and retaining staff at the moment.
It has eight stores and plans to open two more next year and employs around 90 people, but co-founder Sandra O'Casey said it has been a very trying time for the business.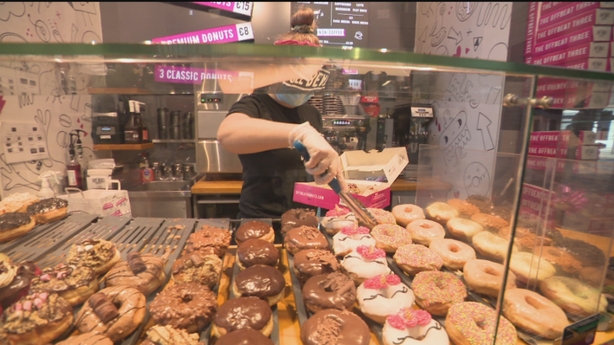 "Currently we are finding that we have ads up on Indeed all of the time, trying to recruit staff and then trying to retain them after you trained them is quite difficult," she said.
The situation may impact plans to have longer opening hours in the run-up to the festive season, she added, and is also putting upward pressure on wages.
She said the company employs some Brazilian students studying here who are also working part-time and want to work more or stay after their courses are finished, but are not allowed under their visas.
"It would be great to see if we could get more people into the country," she said.
"We'd hope that the Government would maybe widen the visa and rules regarding entry into the country just to facilitate that," she added.
The situation is also gripping the hospitality sector. Vinny Mullen runs Herb Street restaurant in Grand Canal Dock in Dublin with his wife and they are experiencing considerable problems with staffing.
"It is extremely difficult. We are going to recruitment agencies and we've ads all over the place on social media, on various platforms, but there just wasn't anyone answering ads over the summer," he stated.
"Those that were answering ads were looking for very high salaries. They were also prone to move when they got a better offer. So it was challenging - really, really difficult - because the demand is there and people are happy to be out," Mr Mullen said.
As a result, Herb Street is having to turn customers away and curtail its opening hours, reducing its operation from seven days a week to five, including just three nights.
The shortages are most acute among chefs, he said, with front of house staff starting to come back as students return to college.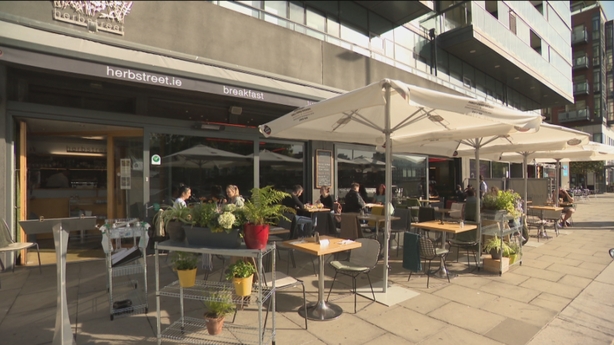 "I would have thought it was a mistake to leave the students on the PUP payment over the summer," he said.
He said a lot of chefs have left the industry during the pandemic and have not come back, leading to a terrible shortage, something which he believes is not easily resolved.
Mr Mullen said if work permits could be made more available for chefs from outside the European Economic Area it would help.
The food and drink production sector is also feeling the staff shortages.
"It is really severe, it is probably the number one priority issue for companies across large parts of the sector at this stage," said Paul Kelly, Director of Food Drink Ireland.
"They are doing their best to recruit either domestically here in the Irish market or from around the rest of Europe, but they are really having a lot of difficulties," Mr Kelly said.
This, he said, is impacting on their ability to do business as they normally would and some are even having to turn away new business and restrict product ranges.
Some employers are having to increase overtime, but there is a limit to how much can be asked of existing staff, he said.
Ultimately, he said the extra costs involved will have to be recovered and that is going to put pressure on retailers and consumers.
He called for a real focus on labour activation measures to get people off the Live register.
There also needs to be greater responsiveness in the work permit system, and more flexibility in visa approval process, " he added.