The number of air passengers travelling to and from the country between April and June rose compared to the same time last year, the latest figures from the Central Statistics Office show.
But passenger numbers still remain way behind their pre-pandemic level, the new figures reveal.
Almost 600,000 people passed through Ireland's five main airports - Dublin, Cork, Shannon, Knock and Kerry - in the second quarter of 2021, an increase of 39% on the lows recorded in the early stages of the pandemic last year.
That figure is still than 94% lower than the almost 10.5 million passengers that flew into or out of Ireland during the same months in 2019.
Restrictions on international travel only began to ease here in the middle of July.
Today's figures show that just over one million passengers travelled through the main Irish airports in the first half of the year, a fall of 16.9 million compared with the same time in 2019.
Dublin airport accounted for 93% of all air passengers handled in the second quarter of 2021, the CSO noted.
London-Heathrow, Amsterdam-Schiphol and London-Stansted were the most popular routes for passengers travelling through Dublin airport in the second quarter of 2021.
---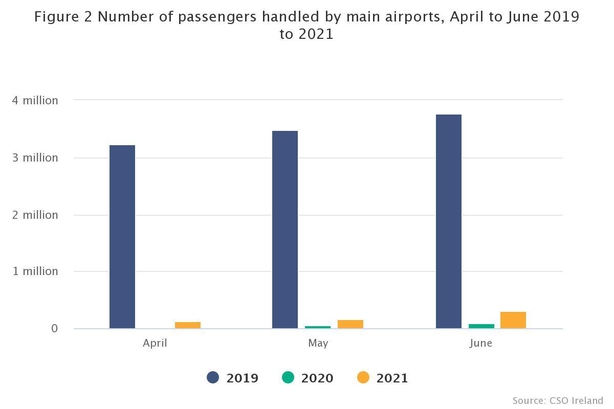 ---
The top route for Cork airport was London-Heathrow and the top route for Shannon airport was London-Stansted, the CSO said.
The CSO said its figures show that 91.7% of passengers on international flights in the five main airports were travelling to or from Europe and the two most popular countries of origin/destination were the UK and Poland.
Outside of Europe, the US was the most popular country of origin/destination in the three months from April to June, it added.