Primark has today unveiled its new sustainability strategy, which is designed to reduce fashion waste, halve carbon emissions across its value chain and improve the lives of the people who make Primark products.
Primark, which trades as Penneys here, has 397 stores across 14 countries.
The new strategy commits the retailer to change the way its clothes are made without changing its prices, which it said will allow everyone to make more sustainable choices when shopping.
Primark has committed to ensuring that all its clothing is made from recycled or more sustainably sourced materials by 2030. This now accounts for 25% of all clothes sold.
As a next step, all men's, women's and kids' entry price point t-shirts will move to being made with sustainably sourced cotton over the next year.
Primark said it will make changes to its design process as it looks to ensure its clothes can be recycled at the end of their life to help reduce fashion waste.
It has also committed to improving the durability of its clothing so it can be worn for longer, including working to define new industry guidelines on durability with WRAP, the UK charity committed to accelerating the fashion industry's move to circularity.
We need your consent to load this rte-player contentWe use rte-player to manage extra content that can set cookies on your device and collect data about your activity. Please review their details and accept them to load the content.Manage Preferences
The retailer said it will also work with its suppliers to cut carbon emissions by half throughout its value chain.
It also plans to eliminate single-use plastics in its own operations, building on the more than 500 million items removed already.
Primark also plans to expand its Sustainable Cotton Programme and train farmers to use more regenerative farming practices, building on sustainable practices such as using less water and fewer chemicals.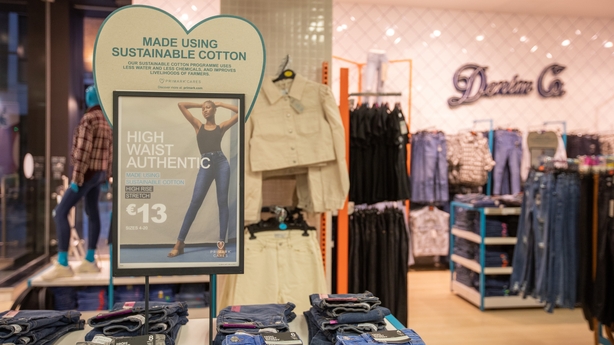 This will be done through the company's partnership with CottonConnect, which aims to enhance biodiversity, adapt to climate change and improve farmers' livelihoods.
The Primark CEO said the company's ambition is to offer customers the affordable prices they know and love us for, but with products that are made in a way that is better for the planet and the people who make them.
Paul Marchant said the company has been working to become a more sustainable and ethical business for over 10 years and one in four of all the clothes it sells already comes from the Primark Cares range of products made from recycled or more sustainably sourced materials.
"Our new commitments mark a significant acceleration in the pace and scale of change, requiring us to think differently about how we do business. Right from how our clothes are designed and manufactured, through to how we sell them in stores," the CEO said.
"We don't have all the answers and we know we can't do it alone. We're committed to work in partnership with the industry to drive real change at scale," he added.
The Primark CEO has said the company aims to use its scale for good in collaboration with others in the fashion industry to bring around real change in the sustainability of the global fashion supply chain.
Paul Marchant said its new "Primark Cares" sustainability strategy will help its customers "buy better, more sustainably, better quality and at the prices they love us for".
Mr Marchant told the News at One that the company is committing to ambitious targets that will see all its clothing produced with more sustainable or recycled materials over the next ten years.
He said that the changes will not result in prices rise, saying "we will not be putting prices up on any of our like-for-like sustainable products".
"We recognise we are a volume business and are proud of the fact we serve a lot of customers every day, but we can actually use our scale for good to bring about real change within our supply change," he stated.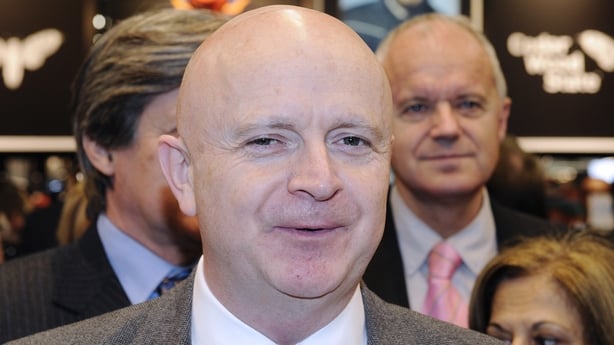 He said that Primark has already begun this "journey" with one in four of all clothes it currently sells made with more sustainable materials.
"We are proud of the durability and quality of the clothes Primark currently sell as "great fashion at affordable prices is the foundation of the company," he stated.
Mr Marchant said that that the company is very mindful of the impact the fashion industry has on the environment.
He said that over the last two years the company has taken 500 million units of single use plastic out of the business.
"But we can't do it alone, we need to work with suppliers and the industry in totality," he added.
He said that the company set up the Primark sustainable cotton programme in 2013 and that by end of 2022 it will have trained 160,000 farmers in better farming methods to use significantly less chemicals, pesticides and water.
80% of these farmers are women and the programme is the biggest of its type in the industry.
He said the company takes its responsibility for the livelihoods of the many thousands of workers in its supply chain very seriously, and is working to pursue a living wage for these factory workers.
This will happen through working with factory owners to better plan and improve operational efficiencies, as well as though growing orders and volume, he explained.
He said that the company is proud of its business in emerging markets including Bangladesh, India and Pakistan and that it audits the real wages earned by workers, which show they do earn more than the minimum wage.
Mr Marchant would not confirm whether Primark intended to pay the factories more for the products to assist them in paying workers more but he said it "may well do".
He said that Primark "would work very closely to ensure those factories are paid the appropriate wage..and ensure that the real wage they are taking home is going in the right direction".
The Primark boss said that collaboration with other fashion houses who use the factories as well as with the factory owners is key and that factories are keen to work towards this ambition.