Car traffic volumes have not yet returned to pre-Covid-19 levels but the gap between 2021 and 2019 figures is gradually declining, new figures from the Central Statistics Office show today.
Latest available data for the week beginning 30 August show that the volume of cars in regional locations are 5% higher than in the same week of 2020.
But car traffic volumes are still 12% lower than the same time in 2019.
Today's CSO figures show that car traffic volumes are now at 90% of August 2019 levels in the Dublin area and 88% of August 2019 levels in regional locations.
Meanwhile, heavy goods vehicles (HGV) traffic volumes are 3% higher in Dublin and 4% higher in regional sites compared with the same week in 2020, the CSO added.
Non-essential international travel returned on July 19 and today's CSO figures show that the number of passengers travelling through Dublin airport in July rose by 125.1% compared with the previous month.
But the number of passengers travelling through the main airports - Dublin, Cork, Shannon, Knock and Kerry airports - in July of this year was still 82.4% lower than the same month in 2019, the CSO said.
The total number of passengers handled by the main airports in the first seven months of 2021 fell from 6,511,913 to 1,719,454 when compared with the same time in 2020.
---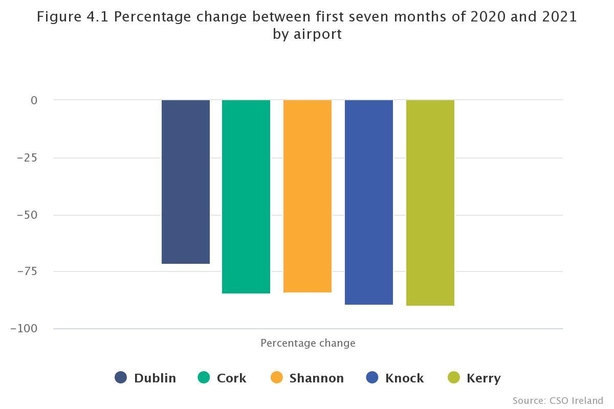 ---
Meanwhile, the number of passenger journeys on public transport dropped dramatically since the start of the Covid-19 crisis.
Since the start of the year, public transport journeys have been increasing gradually but they remain below pre-pandemic levels as onboard public service capacity continued to operate at reduced levels.
For the week starting August 29, the total number of rail and bus journeys is 58.3% of those taken in early March 2020 in pre-Covid times.
The number of bus journeys outside of Dublin in the same week is 65.4% of pre Covid-19 levels, while the corresponding level for bus journeys within Dublin is 58.6% of pre-Covid levels.
The CSO said that rail travel was the mode of transport that was most severely hit since the onset of the crisis.
For the latest week starting August 29 the number of journeys by rail was still 48.8% lower than pre-Covid levels, it added.