An amber alert on Ireland's electricity generation system was lifted last night, according to a statement on the website of SEMO, the Single Electricity Market Operator.
SEMO is a joint venture between Eirgrid and SONI, the Northern Ireland grid operator.
There is a single market for electricity on the island of Ireland.
This was the second amber alert issued this week.
There was another alert on Monday.
Amber alerts are issued when there is a threat to the supply of electricity.
This week's alerts were caused by low levels of wind power generation due to calm weather conditions and the continuing maintenance work being carried out in two gas-fired generation plants.
The plants, in Huntstown and Whitegate, are due to come back into use in November.
---
Read more: Pinergy electricity prices rise for fourth time in 2021
---
In response to this week's amber alerts, the operator of the national electricity grid, Eirgrid, said in a statement that the alerts "did not indicate a loss of electricity supply".
Eirgrid said the "buffer between the demand for electricity and the available supply" was "smaller than optimum".
It said that in addition to the maintenance work at the plants in Whitegate and Huntstown, which represent 15% of generation capacity, there were technical problems with another plant in Tarbert in north Kerry.
It is understood additional maintenance work at several plants means that in total approximately 36% of generation capacity is currently not available.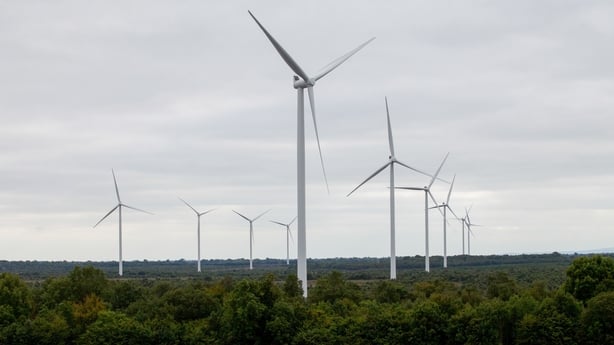 Eirgrid confirmed that output from the country's wind farms was "very low" this week due to weather conditions and that support from Great Britain via the East West Interconnector was limited due to a tightness of supply in the British market.
It also said that in recent months maintaining the balance between supply and demand "has become increasingly challenging".
Industry sources have told RTÉ News that settlement prices for imported electricity to bridge the gap between demand and supply shot up this week from normal levels of around €500 per megawatt hour to over €4,600 per megawatt hour.
Yesterday, the CSO's inflation figures for August showed that electricity prices increased by 19% in the past year.