E&I Engineering Ireland, a Donegal based provider of electrical switchgear and power distribution systems to data centres, has been bought by US based Vertiv Holdings for at least $1.8 billion.
The deal, which also includes E&I Engineering affiliate, Powerbar Gulf LLC, carries the potential for a further $200m in cash to be paid, if profit targets for next year are met.
E&I Engineering was founded in 1986 by Derry native and Derry City Football Club chairman Philip O'Doherty, and is expected to have sales of around $460m this year.
In total the company has over 2,100 staff globally and has had its headquarters in Burnfoot in Donegal since 2004 where it employs over 1,000 people in a 300,000 sq ft production facility.
It also has a manufacturing plant in Derry as well as operations in South Carolina in the US and the United Arab Emirates.
The company said all of its jobs will be safeguarded in the takeover, adding that it will be followed by the recruitment of about 100 new staff in the next year.
It currently supplies its products to customers in 32 countries.
Ohio-based Vertiv, which is a global provider of critical digital infrastructure and continuity solutions, said the market into which E&I Engineering sells is worth around $7 billion a year and is expected to grow 5% each year between now and 2025.
"This transaction brings together two highly complementary businesses and represents a great outcome for E&I's employees and customers," said Mr O'Doherty, who is the CEO of E&I Engineering Ireland.
"We are excited to join the Vertiv team and to continue to grow our business through Vertiv's global reach, strong channel presence and great customer positioning in critical digital infrastructures," he added.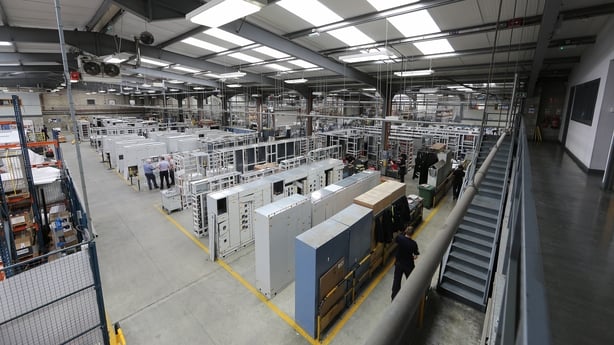 E&I Engineering claims to be the largest electrical switchgear manufacturer in the UK and Ireland.
Under the deal, E&I Engineering will receive $1.17 billion in cash and $630m in Vertiv stock.
Vertiv will pay for the acquisition with cash on hand and new debt financing.
"The acquisition of E&I represents a key milestone in Vertiv's strategy, completing our portfolio of in-building power train offerings for data centers and vital commercial and industrial markets," said Rob Johnson, Vertiv's chief executive.
"The combination will amplify Vertiv's growth opportunities and profitability, while enabling Vertiv to deliver differentiated solutions that manage a customer's entire power infrastructure as an integrated system," he added.