Ireland once again has the highest mortgage interest rates in the euro zone, the latest figures from the Central Bank show today.
The average interest rate on a new mortgage in Ireland in July stood at 2.73%. This compared to the euro zone average of 1.28%.
Ireland is followed by Greece at 2.58% and Latvia at 2.54%.
Finland has the lowest average mortgage rate in the euro zone at just 0.71%, followed by Portugal at 0.8%.
Today's Central Bank figures show that the average interest rate on new fixed rate mortgage agreements was 2.62% in July, a decrease of 5 basis points on the same time last year. Fixed rate mortgages accounted for 83% of new agreements over the month.
For new variable rate mortgage agreements, the average interest rate stood at 3.29% in July.
The Central Bank said this marked a decrease of 15 basis points on July 2020, but it added that volumes agreed remain quite volatile.
Meanwhile, the volume of new mortgage agreements amounted to €718m in July, an increase of 29% on the same month last year, when volumes had declined significantly due to the Covid-19 pandemic.
It also represented a 5% increase compared with June 2021.
---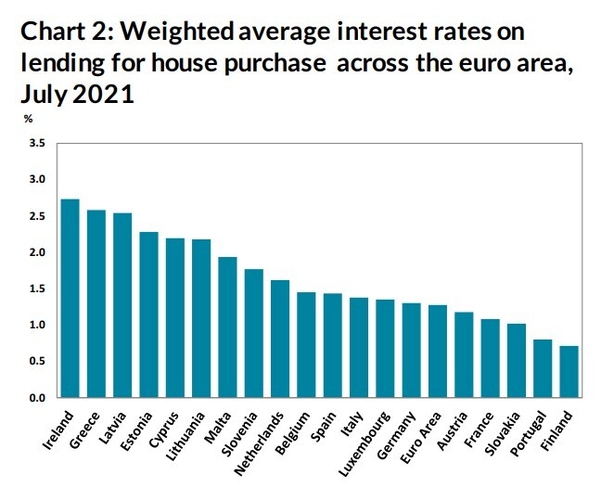 ---
The Central Bank also said that renegotiated mortgages amounted to €324m in July, up 29% on the previous year, while the weighted average interest rate for all renegotiated mortgages was 2.61%.
Despite today's figures, mortgage rates have been slowing falling in Ireland in recent months.
"The fall in mortgage rates over the past year is obviously welcome and the overall trend does appear to be downward, albeit very, very slowly. However it's still deeply frustrating that rates here remain so high compared to our euro zone neighbours and have done so for so long," Daragh Cassidy, Head of Communications at comparison and switching website Bonkers.ie, said.
"Despite the impending exits of both Ulster Bank and KBC Bank Ireland, there has actually been some good competition in the mortgage market in recent months with ICS mortgages, EBS, Finance Ireland and Avant Money all reducing rates," he said.
"However this isn't feeding through to the average rate consumers are being charged just yet," he added.
According to Banking and Payments Federation Ireland, the average first-time buyer mortgage in Ireland is around €250,000.
"This means someone borrowing this amount over 30 years is paying over €181 extra a month, or almost €2,200 a year, compared to our European neighbours", Daragh Cassidy said.