Emerald Airlines, the new start-up carrier set to run regional services on behalf of Aer Lingus, has been granted its Air Operator Certificate (AOC).
The development means the airline now has the regulatory and safety approval from the Irish Aviation Authority that is required before it can begin offering commercial air passenger services.
"Being granted the first AOC in Ireland since the pandemic is not only a major milestone in our journey as an airline but a significant one for the Irish Aviation industry as it begins its recovery following the worst crisis in its history," said Conor McCarthy Founder and CEO of Emerald Airlines.
"We are now able to progress towards the launch of scheduled services, which will be rolled out progressively as our aircraft are delivered and market conditions allow."
"We will be working very closely with Aer Lingus on this now that we have our AOC in place."
As part of its application for an AOC Emerald Airlines had to complete a proving flight, which took place from Dublin to Cork on September 3.
Emerald Airlines has been given the callsign GEMSTONE and EAI as its three-letter designator by the International Civil Aviation Organisation (ICAO).
The agreement with Aer Lingus to operate the regional service begins on January 1 of 2023 and will run for ten years.
However, the carrier is working with Aer Lingus to see if it might be possible to bring the start date forward following the collapse of the former operator, Stobart Air earlier this year.
That left Aer Lingus and the Government scrambling to find replacements for a large number of routes, including the public service obligation routes .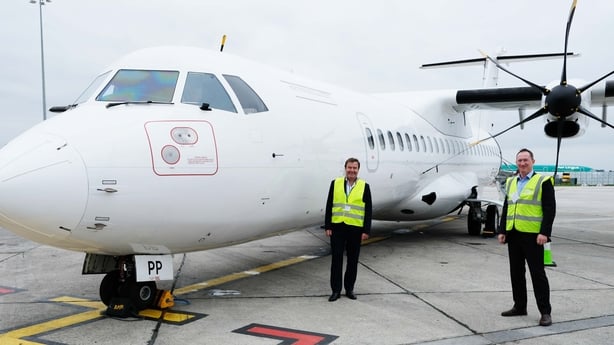 "Establishing a new airline and achieving all the necessary safety and licensing approvals is a huge achievement at any time. It is particularly challenging in the current pandemic circumstances, and we congratulate all of the team at Emerald on passing this milestone."
"The emergence of Emerald as a new Irish airline is a big lift for Irish aviation and the Irish travel industry as we push to rebound from the catastrophic sectoral impact of the pandemic.," said Diarmuid Ó Conghaile, the Aviation Regulator.
"We at the IAA are delighted to have another airline on the Irish register. This development demonstrates the flexibility and the potential of the industry here."