Thirty-four staff working for banks operating in Ireland earned over €1 million each in 2019, according to new data published by the European Banking Authority (EBA).
This represents an increase of seven on the previous year.
The highest earner was a manager at an unnamed institution who received €16.2m in payments, made up of over €9m in fixed pay and more than €7.2m in variable remuneration, although €6.4m of that was deferred.
Three more individuals, working in the areas of management, investment banking and asset management, were each awarded combined fixed and variable pay of between €4m and €5m.
One person, also working as a manager for an Irish regulated bank, was paid a total of €3.3m during the year in question, while three others were paid between €2m and €3m each.
A further 26 bankers, working across management, investment banking, asset management, corporate functions and independent control functions, took home total pay packets of between €1m and €2m.
Under an EU Directive, regulators in each member state are required to collect information about the number of individuals per institution paid more than €1m in a given year.
The EBA then collates this information on high earners and publishes it in an anonymised form once a year.
The data covers all staff of institutions and EU branches in third-country institutions.
Aside from the well-known retail banks used by the general public, Ireland is also home to a large number of international investment banks and wealth management firms, many of whose staff are highly paid and are the focus of the data.
The Irish banks bailed out by the state during the financial crisis over a decade ago are currently subject to a salary cap of €500,000 as well as an 89% super tax on incentive-based pay, although this was not applied as strictly in the case of Bank of Ireland's current CEO, Francesca McDonagh, as she was appointed to the role from outside the organisation.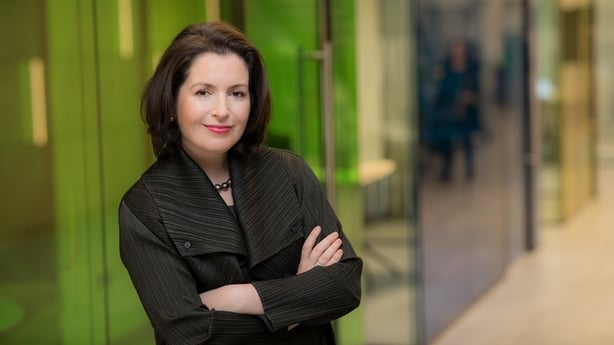 In its 2019 annual report, Bank of Ireland said Ms McDonagh received a total remuneration package of €958,000 that year.
AIB chief executive, Colin Hunt, received total pay of €488,000 the same year, while then Permanent TSB boss, Jeremy Masding, had a total remuneration package of nearly €570,000 in 2019.
Overall, the EBA said that across the EU, the number of high earners receiving remuneration of more than €1m increased slightly from 4,938 in 2018 to 4,963 in 2019.
Nearly 71% or 3,519 of the high earners covered by the data were located in the UK, down 95 on the previous year.
Increases were seen though in the numbers in most member states, with particularly strong growth observed in Germany (+9.3%), France (+15.4%) and Italy (+17%).
Belgium, Spain, Finland, Luxembourg, Portugal , Slovenia and the UK were the only countries where the number of high earners slightly decreased.
The EBA said that the rise in high earners resulted mostly from the impact of the relocation of staff from the UK to other parts of the EU as part of Brexit preparations and the overall good financial results in some institutions.
It also said ongoing restructuring and consolidation of banks leading to higher than usual severance payments also played a role in the rise.
The highest proportion of high earners worked in investment banking, where 2,535 of the total were employed.
The EBA added that average ratio of variable to fixed remuneration for all high earners in the EU fell from 139% in 2018 to 129% in 2019.
In the area of asset management, the average ratio decreased from 378% in 2018 to 339% in 2019, still far exceeding the maximum ratio of 200%, the EBA said.
Under EU rules, a bonus cap was introduced in 2014 precluding highly paid bankers from breaching a maximum ratio of 100% (or 200% with shareholders' approval) between the variable and the fixed component of their total remuneration.
General Secretary of the Financial Services Union, John O'Connell, said the growing number of high earners here should not become the new norm in the banking sector.
"The FSU welcomes the return to profits of the main retail banks in Ireland. Banks are commercial entities and are answerable to their shareholders," he said.
"They are entitled to make a profit, but it is incumbent on them to reward their staff who provide a first-class service to their customers."
"It is not justified that senior bank management can earn enormous amount of money while staff at different levels in the Bank are left with the crumbs on the table."