KBC Bank Ireland has shared its updated redundancy terms with its 1,300 staff, following negotiations with the the bank's employee council.
The Belgian-owned bank, which is planning its exit from the Irish market, has not said how many employees may be facing redundancy.
However, it said it stands by its formal commitment of job security until at least the end of October.
It said that commitment will continue to run until the sale if its performing loan book to Bank of Ireland, and the sale of its non-performing loans have been signed by all parties and have received full regulatory approval.
The redundancy terms include six weeks basic pay per year of service, in addition to statutory redundancy.
The bank said there will be a minimum payment of €17,500, plus statutory - if an employee has over two years of service.
Long service payments of between 20 - 29 years of service will see an ex-gratia payment of €5,000, while employees with over 30 years of service will receive an ex gratia payment of €7,500.
A retraining grant of €5,000 is also included in the terms, or an additional voluntary contribution of the same amount to their pension.
In terms of healthcare, the bank said two months additional cover will be provided following the termination date.
KBC said there will be no pension clawback of employer contributions for those made redundant with less than two years of service.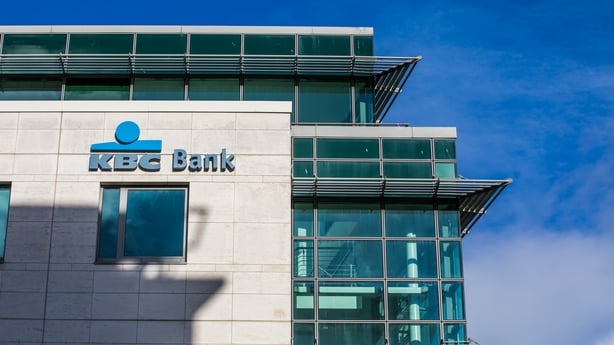 In an email to staff, KBC's Employee Council said it supports the terms.
"Over the past number of months, the Employee Council have been working through a very robust process on your behalf on all employee related matters arising from the Bank's potential exit from the Irish Market," the email read.
"You will be aware that in recent weeks we had started into a very intensive period of direct negotiation with the bank in relation to redundancy terms.
"We have undertaken comprehensive analysis and we know that, in the round, these terms to be the strongest in our sector currently.
"We are satisfied that what has been agreed delivers not only a fair but strong outcome for all employee," the email read.
In a statement issued to RTÉ News, KBC Bank Ireland said it has been engaged in a consultation process with the KBC Employee Council in relation to redundancy terms over the past number of weeks.
"We have listened carefully to our colleagues throughout this process to best understand their needs and wants which we have sought to meet to the greatest extent possible.
"We have responded with what we believe are strong terms that compare very favourably in the sector and reflect the banks deep appreciation for the service given by our employees during their time working with KBC," it said in a statement.
Ales Blazek, CEO of KBC Bank Ireland said the welfare of employees has been a key focus for them throughout the process.
"We have been determined to ensure that their requirements are heard and understood.
"Following robust and constructive engagement with the Employee Council we believe we are providing an outcome that responds to the needs of our colleagues," he said.
KBC said the opening of the scheme is subject to the potential transactions being agreed and approved.
It said discussions around the transactions are ongoing and an announcement will be made "at the appropriate time" when and if they are finalised.
The bank confirmed to staff that where TUPE applies to either of the potential transactions KBC will comply with the legislation.
Responding to the terms, John O'Connell, General Secretary of the Financial Services Union (FSU) said the FSU submitted terms to KBC a few weeks ago on behalf of their members.
"It is clear from the proposals put forward by KBC today that they have responded to the pressure exerted on to them by the FSU and political forces from across all political Parties.
"We met this morning with our members committee and we will be hosting full members meeting next week with a view to organising a members ballot on the proposals," Mr O'Connell said.
He added that the issue of TUPE remains a "very live" issue for their members.
"We expect both Bank of Ireland and KBC to confirm staff have the option of staying and transferring with the work," he said.