Merger and acquisition activity in Ireland reached a record high in the first six months of the year, according to new figures from William Fry.
A total of 106 deals were recorded in the first half of the year, a 33% rise on the same period in 2020.
This figure is the highest of any half-year period on Mergermarket record since 2006.
The William Fry Mergers & Acquisitions Review 2021 reveals that total deeal value came to €19.6bn, more than eight times the figure of €2.4bn for the same period last year.
Nine deals were valued at over €500m, with six securing a price tag of over €1bn.
The largest was Allied Irish Banks (AIB)'s acquisition of Ulster Bank Ireland's commercial lending business from the Royal Bank of Scotland for €4.1bn.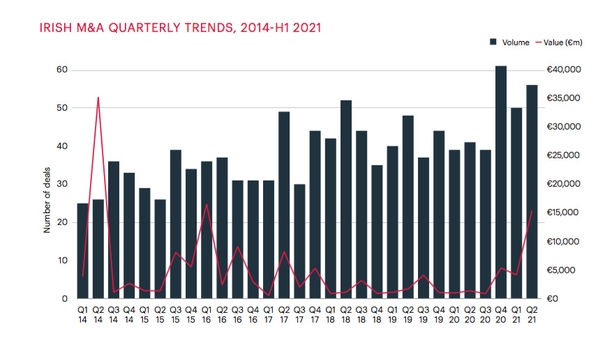 18 out of the top 20 deals of in the first half of the year were inbound transactions.
According to the report, inbound transactions rose by both volume - to 76 deals, and value - to €15bn, compared to the same period in 2020.
US buyers spent €10.7bn on Irish firms and they were also the most active buyers in terms of volume, securing 26 deals while the UK came in second place with 16 deals worth €1.29bn.
The figures show that US-based private equity firms continued their dominance in the Irish market.
The largest deal in the first half of the year was US buyout firm Clayton, Dubilier & Rice's takeover offer for UDG Healthcare for €3.4bn.
The second and third largest PE deals was Advent and Eurazeo's €1.8bn acquisition of Planet and Bain's US$1.7bn acquisition of Valeo – both also involve US based bidders.
However, the report states that both Bridgepoint/Astorg's acquisition of Fenergo and Digital 9 Infrastructure's purchase of Aqua Comms highlight UK PE firms' interest in Ireland's homegrown tech talent.
Looking at the remainder of 2021, Stephen Keogh, Head of Corporate M&A at William Fry said the first half performance shows that Ireland is open for business.
"International PE funds in particular, with access to unprecedented amounts of capital, will continue to search for attractive acquisition targets.
"Overseas buyers will continue to be drawn to Ireland's business-friendly economy, thriving multinational scene and homegrown talent.
"With the macroeconomic picture continuing to improve, the stage looks set for a stand-out year for Irish deal-making," Mr Keogh said.