Retail sales volumes grew 3.3% in June compared to the previous month after restaurants and bars were allowed to serve customers outdoors for the first time this year.
Sales were 10.6% higher than the same month a year ago, when stricter curbs were in place, and 13% up on pre-pandemic levels in June 2019.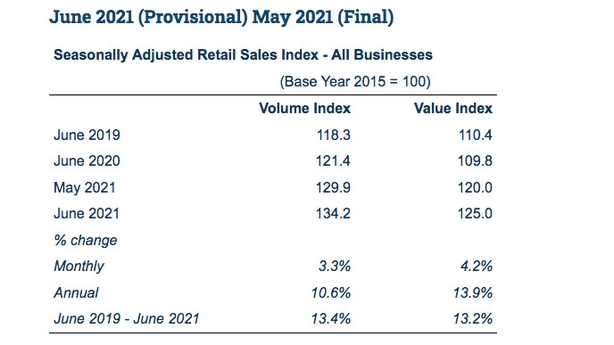 Non-essential retailers were allowed to re-open on 8 June last year, where access at street level was possible.
Shopping Centres re-opened on the 15 June 2020.
In June 2021 all retail was open, while bars were allowed trade outdoors for the entire month.
While pub sales were 553% higher month-on-month, they were 48% down on 2019, the Central Statistics Office said.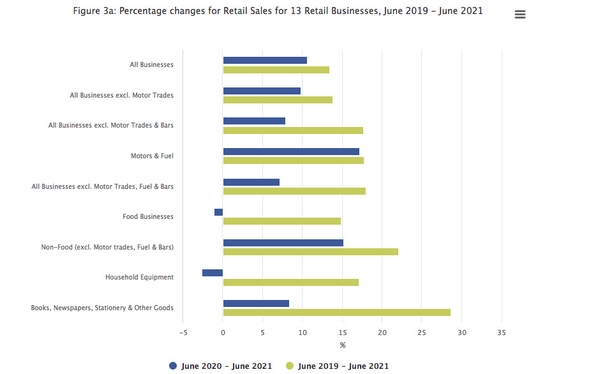 Aside from spending in pubs, books, newspapers and stationary saw the next largest increase in June, up 169% on the previous month.
Department store spend was up just over 53% on May, while pharmaceuticals, medical and cosmetic products were up 20%.
The sectors which experienced decreases in the month were electrical goods, down 3.7%, clothing, footwear and textiles, down 1% and non-specialised stores, including supermarkets, down 0.2%.
When motor trades are excluded, the volume of retail sales increased by 8.4% in June over the previous month and increased by 9.8% when compared to June 2020.
The proportion of retail sales carried out online from Irish registered companies fell to 5% in June 2021, down from 5.6% of all retail sales in May 2021 and from 6.7% in June of last year.
The CSO figures show that the value of retail sales was 4.2% higher in June compared to the previous month.
On an annual basis the value of retail sales was 13.9% higher than June 2020.
Excluding Motor Trades, the value of retail sales increased by 10.0% in the month and increased by 12.1% on an annual basis.
Separate daily credit and debit card usage compiled by the central bank have shown that spending fell back a touch in the first half of July after plans to resume indoor dining and drinking were delayed until this week.