Online grocery sales declined for a second month in a row, new figures show today as the vaccine rollout continues and more Covid-19 restrictions are lifted.
New figures from Kantar show that online sales dipped by 6.1% in the latest four weeks to July 11 as shoppers reduced the size of their orders.
It noted that this trend is most pronounced in urban areas where shoppers have more options to pop to local shops as online sales dropped by a much bigger 24% in Dublin this month.
Kantar's figures also show that grocery market sales declined by 5.9% in the 12 weeks to July 11.
In the most recent four weeks, sales dipped by 3.6% as Irish shoppers enjoyed warmer temperatures, renewed freedoms, and the return of live sport.
It said that while the market is in year-on-year decline, sales remain strong compared with pre-pandemic times and the average household spent €189.98 more in the latest 12 weeks than the same period in 2019.
Emer Healy, retail analyst at Kantar, said the Euro 2020 soccer tournament provided a welcome excuse to head out to newly reopened pubs and restaurants and reconnect with friends and family.
This resulted in take-home sales of classic pub snacks like crisps and nuts falling by 1.6% and 2.9% compared to the previous four weeks, while supermarket alcohol sales dropped by 1.5%.
But with indoor hospitality still closed, shoppers spent €58.9m more on take-home alcohol than before the pandemic in 2019.
The good weather also saw people making the most of alfresco dining this month, while they also stocked up on sun protection with sales of sun cream soaring 70% year on year.
---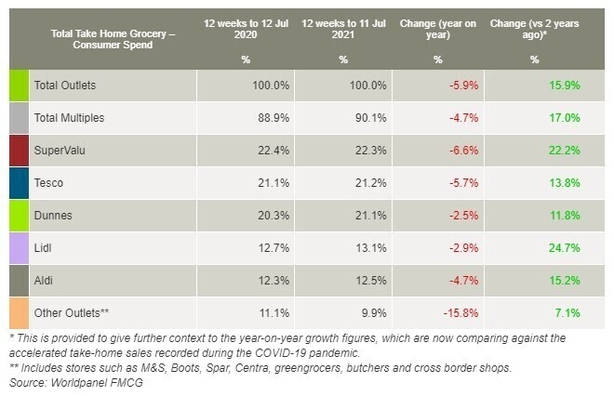 ---
Getting out and about more also meant people were spending less time cooking meals from scratch at home. In the latest four week period under review, consumers spent €4.8m more on chilled convenience items like pizzas and prepared salads and €2.4m more on chilled ready meals.
Today's Kantar figures show that SuperValu continued to hold the biggest share of the grocery market at 22.3% during the past 12 weeks.
The retailer attracted its customers into store 20.9 times on average over this period, the highest frequency among the grocers.
Tesco accounted for 21.2% of grocery sales this period, holding its spot as the second largest retailer. It won new shoppers and encouraged more frequent trips which contributed €8m and €46.6m to its takings respectively.
Dunnes captured 21.1% of the grocery market this period, as it also welcomed new shoppers and encouraged existing shoppers to return to store more often.
Dunnes continues to achieve the highest spend per buyer out of the retailers and its average household spent €558.64 in the past 12 weeks.
Lidl achieved a record breaking 13.1% market share this period and was the only retailer to convince its customers to spend more on branded products than last year.
Aldi held 12.5% of the market, as it saw new shoppers that contributed €7.5m to its tills.