The economy grew more strongly last year than previously thought, according to new figures from the Central Statistics Office which show that Gross Domestic Product (GDP) grew by 5.9%.
The CSO said it revised upwards the previous figure of 3.4%, due to the availability of more comprehensive and detailed data.
The rise in GDP was largely driven by a 9.5% increase in exports of goods and services, which reached almost €500 billion for the year.
Gross National Product (GNP), a measure of economic activity that excludes the profits of multi-nationals, increased by 3.4% in the year.
The Covid-19 related restrictions led to lower levels of economic activity in 2020 for many of the sectors focused on the domestic market.
The Distribution, Transport, Hotels & Restaurants sector contracted by 19.3%, while the Construction sector decreased by 10.2%.
Growth continued in the more globalised sectors with Industry increasing by 22.1%, while the Information & Communication sector increased by 13.8% in the year.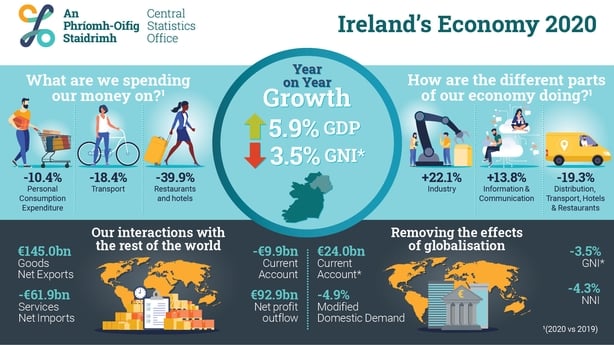 Commenting on the figures, Minister for Finance, Paschal Donohoe pointed out that the growth has come from a very small number of sectors.
"I have said since the onset of the pandemic that GDP is not an accurate measure of what's going on in the Irish economy, and this view has been re-enforced by today's numbers," he said.
Minister Donohoe said the Department of Finance places a much greater emphasis on measures such as Modified Domestic Demand and GNI in assessing the underlying economy in Ireland.
"Modified Domestic Demand fell by 5% last year, and contracted by a further 3.5% on a quarterly basis in the first quarter this year, a figure that is in-line with expectations and reflects the impact of Level 5 restrictions in the first quarter.
Today's figures show that for the first quarter of this year, the updated estimate for GDP growth is 8.6%, when compared with the final quarter of last year.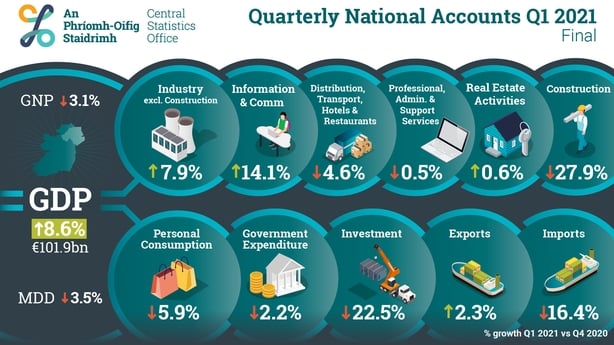 In the most globalised sectors, growth continued with the Information & Communication sector growing by 14.1% in the quarter and Industry increasing by 7.9%.
Sectors focused on the domestic market experienced varied effects in the quarter, with the Distribution, Transport, Hotels and Restaurants sector contracting by 4.6%, Construction contracting by 27.9% and the Finance & Insurance sector increasing by 2.2%.