New figures from the Central Bank show that Irish mortgage rates fell slightly in May and are now the third highest in the euro zone after Malta and Greece.
The average interest rate on new Irish mortgage agreements fell to 2.8% in May, down 7 basis points on May 2020.
The average for the euro area stood at 1.27% in May, although the rate varied considerably across countries.
Today's figures show that the average interest rate on new fixed rate mortgage agreements was 2.64% in May, a decrease of 10 basis points on May 2020.
Fixed rate mortgages accounted for 79% of new agreements over the month, the Central Bank said.
For new variable rate mortgage agreements, the average interest rate stood at 3.39% in May. This marked an increase of 2 basis points on the same time last year.
The Central Bank said the volume of new mortgage agreements amounted to €573m in May, an increase of 52% on May 2020, when volumes had declined significantly following the onset of Covid-19.
It also marked a 4% increase compared with April of this year.
---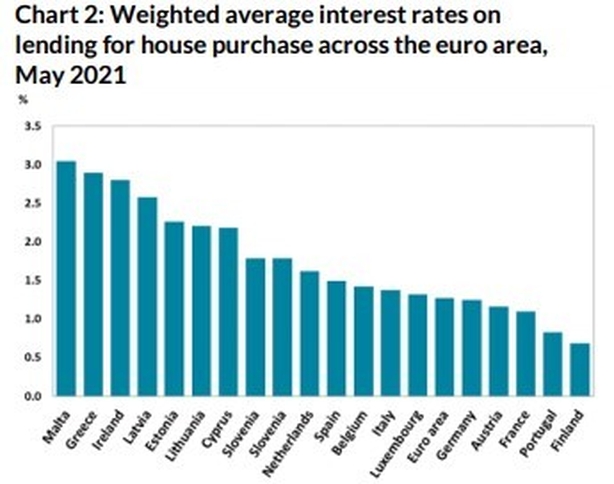 ---
The Central Bank said that renegotiated mortgages amounted to €189m in May, a decrease of 66% on the previous month series high.
The weighted average interest rate for all renegotiated mortgages was 2.74% in May, it added.
Brokers Ireland said existing and aspiring mortgage holders need to consider their positions very carefully and ideally seek impartial advice.
"There is no doubt that despite the exit from the market of Ulster Bank and KBC, new product offerings, especially long-term fixed interest rates of 20 years in the case of Finance Ireland and 30 years in the case of Avant Money, have improved competition within the market that was sorely lacking up to recently," said Rachel McGovern, Director of Financial Services at the organisation.
She added that for the first time in a long time there is discussion once again about inflationary pressures.
"This could lead to increases in interest rates, although not immediately, given recent comments from the ECB whose meeting later this month will be eagerly awaited for signals," she said.
"At this point our advice to mortgage holders is to shop around for the best rate and carefully consider their position over the longer term. Long-term fixed interest rates give a great level of security around financial outgoings."
While Darragh Cassidy from Bonkers.ie said the small drop in interest rates year-on-year is obviously welcome,
But he said it doesn't mask the fact that rates here remain highly elevated compared to our European neighbours.
Meanwhile, the Central Bank said that interest rates on new household term deposits stood at 0.12% in May compared to the equivalent euro area rate of 0.23%.