New figures from the Central Statistics Office show that in 2021 one in eight chief executive officers in Ireland are women.
The CSO's latest Gender Balance in Business Survey also reveals that in January of this year, 30% of senior executives in large enterprises in Ireland were women, a slight increase from the 28% reported in 2019.
36% of the senior executive appointments in the last year went to women, while over the past two years, 43% of external appointments were women compared to 33% of internal appointments.
Today's figure also show that men occupied 87% of CEO positions, down slightly from 89% in 2019. Meanwhile, women had 28% of chief financial officer positions while 72% were men.
The CSO also noted that female representation on boards increased from 20% in 2019 to 22% in 2021 and almost a third of appointed board members in 2020 were women.
It noted that Administrative & Support Services had the highest proportion of female board membership at 33% while Construction had the highest male board membership at 94%.
Meanwhile, the level of female representation of board chairpersons increased from 7% in 2019 to 14% in 2021.
Of the chairpersons who have been on the board for less than a year, 21% were female and 79% male. Of those on the board for five years or more, 11% were female and 89% male, the CSO said.
---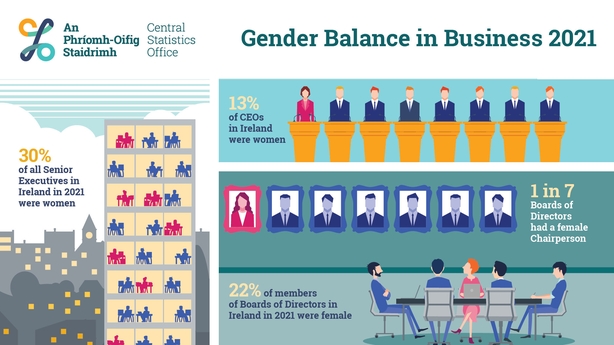 ---
The latest survey also shows that 29% of enterprises reported having at least 40% female representation at Senior Executive level while 18% had at least 40% female representation on Boards of Directors.
The CSO said its online survey was sent to nearly 700 businesses and the information was collected between the end of April and start of July. The response rate to the survey was 67%, it added.
President of Network Ireland Aisling O'Neill said the data was hugely encouraging for women, particularly considering the upheaval of the past 18 months and a series of reports showing women's working lives have been heavily impacted by the pandemic.
"We know that visible role models are vitally important and I'd like to congratulate these women taking on chairperson roles in their companies for all they're doing to advance their careers and thereby encourage others," she said.
"They are key to fulfilling the promise of the principle surrounding 'if we can see it we can be it'. "