MDS International, a manufacturer of heavy duty quarrying and recycling screening equipment, based in Carrickmacross in Co Monaghan has been bought by Terex Materials Processing, a materials processing equipment maker with a strong presence in Northern Ireland.
Founded in 1995 by Liam and Una Murray, MDS exports equipment to 30 countries on six continents and employs 75 people.
Terex MP manufactures and exports crushing and screening equipment that is typically used in quarries and large infrastructure projects, as well as environmental equipment for waste management and recycling applications.
It operates from nine sites in Northern Ireland, including Omagh, Dungannon, Ballymoney, Campsie and Lurgan, which together employ about 2,000 people.
The 34,000 square foot MDS facility will be the first Terex MP location in the Republic of Ireland.
Liam Murray, the co-founder of MDS International, said to have a multinational company like Terex interested in the business is a testament to what it has achieved.
"MDS will now have the global resources of Terex to develop and grow it to new levels; I feel this is the right move for our business and team," Mr Murray said.
"This sale will also bring new levels of support to customers worldwide and to the local area in terms of employment and supply chain. I will always care deeply for our MDS family and will remain on board for a period of time, in order to support a smooth transition to Terex ownership," he added.
Pat Brian, Vice President of Mobile Crushing and Screening at Terex MP, said the addition of MDS to its portfolio of businesses will bolster the company's growth and improve its product offering.
The business has been well managed, is on a terrific growth trajectory, and its heavy duty trommels address a gap in our own product lines while also having a lot of synergy with what we already manufacture and distribute," Mr Brian said.
"We look forward to replicating the success of our Northern Irish businesses with MDS, investing and working with the team, facility, and products to grow the business internationally," he said.
"From supply chain benefits, exports, and jobs, Terex facilities deliver significant economic benefits to each of the local areas where we operate, and we hope to do the same here Co Monaghan and throughout Ireland as well," he added.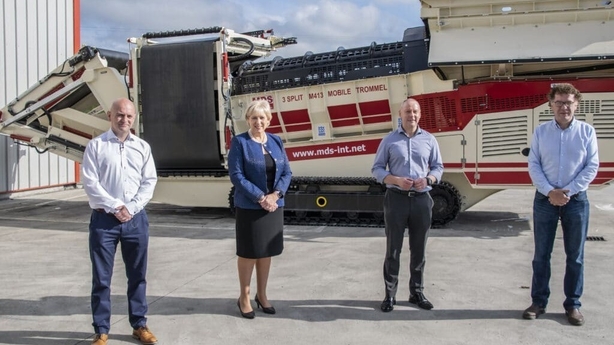 Minister for Social Protection, Rural and Community Development Heather Humphreys said today's deal represents a huge vote of confidence in MDS International.
Heather Humphreys said the firm has gone from strength to strength over the years, and have acted as a really important employer in County Monaghan and the wider border region.
Exporting to over 30 countries on soix continents is a great example of far indigenous Irish companies can reach," the Minister said.
"I want to congratulate Liam Murray and all his team for what they have achieved. I look forward to seeing the positive impacts that I have no doubt this investment will have in Monaghan and the region as a whole," she added.