Home builder Glenveagh Properties said today that Germany-based Union Investment has bought the planned 262-bedroom Premier Inn hotel in its development at Castleforbes in the Dublin Docklands.
Union Investment is a European real estate investment manager.

The Premier Inn hotel will form a key part of a wider mixed-use development, which also includes 1,256 apartments, 12,545 square metres of office space known as the Freight Building and a second 219-bedroom hotel on the junction of East Road.
Construction of the Premier Inn hotel will begin in July of this year and is due to open in Autumn 2023.
The hotel will be operated by UK-headquartered hotel group Whitbread under its Premier Inn brand, as was previously announced by the company.
Stephen Garvey, Glenveagh's chief executive, said this marks the start of delivery of a significant development in the Docklands which will provide a sustainable mix of residential, hotel and office accommodation in this prime city centre location.
"The project forms part of a wider masterplan for our Dublin Docklands sites and is testament to our commitment to keeping sustainable development at the heart of everything we do," the CEO added.
Union Investment has been active in the Irish office property market since 2015.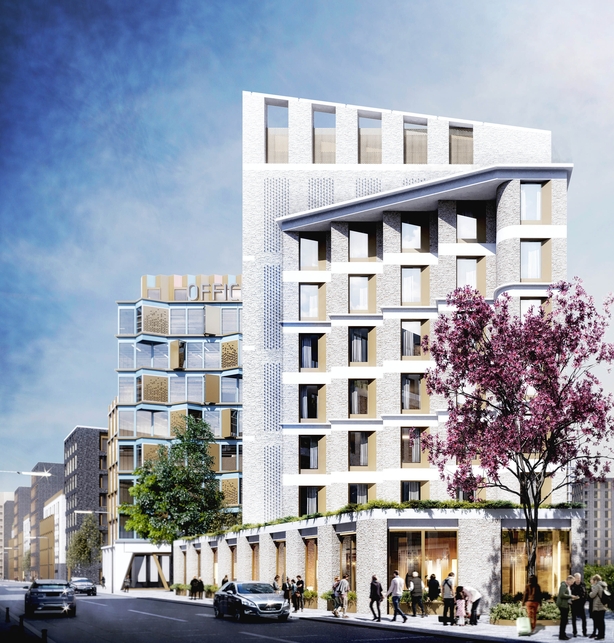 The company also recently entered the Irish housing market by buying the 8th Lock residential project in Dublin.
"We are expecting demand for hotels to recover by 2023 - the year of completion - at the latest and we intend to further expand our high-quality portfolio through targeted acquisitions. It currently comprises around 80 hotels," Andreas Löcher, head of Investment Management Hospitality at Union Investment, said.
"We will focus primarily on core products with resilient concepts and operators. The planned Premier Inn hotel is a core property in one of Europe's best performing hotel markets," he added.