The Minister for Finance has said it is too early to say whether the next phase of the Government's reopening plans, due to come into effect on 5 July, are to be changed due to increased numbers of cases of the Covid-19 Delta variant.
Paschal Donohoe said he had yet to receive a recommendation and update from the Chief Medical Officer and NPHET, although the Government had a discussion at cabinet about it yesterday.
He said it is unfortunately the case that the Delta variant is showing clear sings of growing in out country, but added that this is why the vaccination programme is so important.
He said the Government did say when it announced the reopening plan that each stage was dependent on the health of the country, the nature of the disease and the impact on our health.
Mr Donohoe said he did understand that the issue is of huge concern to the country, citizens and employers.
He said he really hopes we can avoid changing the plans.
The Finance Minister said he would only be able to form a personal judgement after he had received a briefing from the CMO and NPHET, and added that he hopes that the hope and optimism for the future is one we are able to deliver.
He said he is really aware that people will need notice if there is to be a delay and that timeliness of communication is as important as clarity of communication.
However, every day the situation changes he said and every day that goes by we will have tens of thousands more people vaccinated.
The chief executive of the Licensed Vintners Association has called on the Government and NPHET to make a decision by Friday this week, on whether the planned re-opening of indoor dining in pubs and restaurants will go ahead on 5 July.
We need your consent to load this rte-player contentWe use rte-player to manage extra content that can set cookies on your device and collect data about your activity. Please review their details and accept them to load the content.Manage Preferences
Donal O'Keefe told RTÉ's News at One that there's a very significant cost to be incurred to prepare their premises to re-open and it's simply not acceptable and businesses can't operate with this uncertainty.
He said his members won't have enough notice if the decision is made next week and that it's "entirely fair and reasonable that the Government make their decision this weekend".
Mr O'Keefe said they can then "avoid the unnecessary cost of not being allowed to re-open which would be a simply devastating blow for our sector".
He said they are unsure now whether or not to take staff off PUP and bring them back to work next Monday.
He said there is too much uncertainty now, about whether or not to bring staff back next week to start to prepare to re-open and about whether or not to order stock including perishable, expensive stock, such as fresh food.
If the advice is to delay the re-opening, Mr O'Keefe said his members will accept and abide by that decision, but said they're simply calling for that advice to be brought forward and delivered before this weekend.
He said "we think that's a reasonable ask, given 15 months of closure and we continue to follow that public health advice".
He said it's a completely different environment to last summer and "it seems extraordinary to us that we can't have clarity a week away from a proposed re-opening after 15 full months of closure".
Meanwhile, the VFI said today's news that there is only a 50-50 chance of reopening proceeding as planned is causing huge concern and stress to publicans and the 25,000 staff who are planning on returning to work in early July.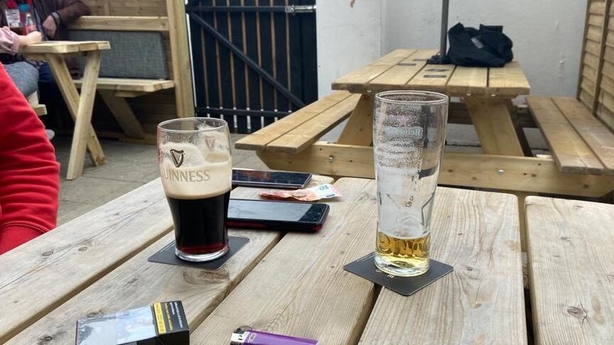 The VFI said the scheduled full reopening of the hospitality sector on July 5 will mean a return to work for over 25,000 staff and the opportunity for pubs to trade during a busy summer season.
"The eight weeks until the end of August is a vital period for publicans as it remains the only realistic opportunity to salvage something from 2021 and tide them over until next year," it added.
Padraig Cribben, the VFI's chief executive, said the comments from Government ministers that the July 5 reopening may be delayed is causing huge upset and concern in the hospitality sector.
"With only two weeks to go it's not acceptable to treat our members in this manner," Mr Cribben said.
"There are just eight weeks in the summer season for pubs to recoup some of the massive losses accumulated over the past 15 months, so to tell publicans they may lose any of those weeks will devastate the trade," he said.
"The business generated in July and August will sustain most pubs through the winter and into next year so for Government to delay reopening during the summer will impact the sector to a much greater degree than, for instance, a delay in January," he added.
Mr Cribben said that publicans are busy rehiring staff and ordering stock so this new uncertainty places them in an impossible position.
"They need immediate confirmation that reopening on July 5 will proceed as planned. The fact that Government will not make a final decision until Friday July 2 - just three days before reopening - illustrates how detached Ministers are from the realities of running a business," he added.
He also said that the country is already lagging behind the UK and mainland Europe when it comes to reopening, adding that July 5 must proceed as planned.