EU competition regulators have told Insurance Ireland that they have formed the preliminary view that it breached competition rules in the motor market, following a two-year long investigation.
The findings relate to an alleged restriction of access to a data sharing platform run by Insurance Ireland which certain companies with a legitimate interest wanted to join.
"The European Commission's preliminary findings show that Insurance Ireland arbitrarily delayed or de facto denied the access of certain insurers and their agents to Insurance Link," the EU competition enforcer said.
"Since at least 2009 and until today, access has been linked to membership in the association," it said in a statement.
Insurance Ireland is an association of companies active in the insurance sector here. It covers over 90% of the Irish motor vehicle insurance market.
Its members include FBD Insurance, Aviva, RSA, Allianz, AIG, Liberty Insurance and Zurich.
Insurance Ireland sets the conditions of access to Insurance Link, which comprises a non-life insurance claims data pool and a facility for users to request certain data about such claims.
The EU said that Insurance Link enables its users - companies offering motor vehicle insurance - to better assess risk and to detect and defend themselves against potential fraud.
We need your consent to load this rte-player contentWe use rte-player to manage extra content that can set cookies on your device and collect data about your activity. Please review their details and accept them to load the content.Manage Preferences
The commission had opened the in-depth investigation into Insurance Ireland's data sharing system in May 2019.
The commission said its preliminary findings found that the lack of access to the Insurance Link platform placed companies at a competitive disadvantage in the Irish motor vehicle insurance market in comparison to companies that have access to the database.
It said this negatively affected costs, quality of service and pricing.
It also acted as a barrier to entry and thus reduced the possibility of more competitive prices and choice of suppliers, the Commission added.
Executive Vice-President Margrethe Vestager, who is in charge of competition policy, said that motor insurance is a significant cost in the budget of every family and business.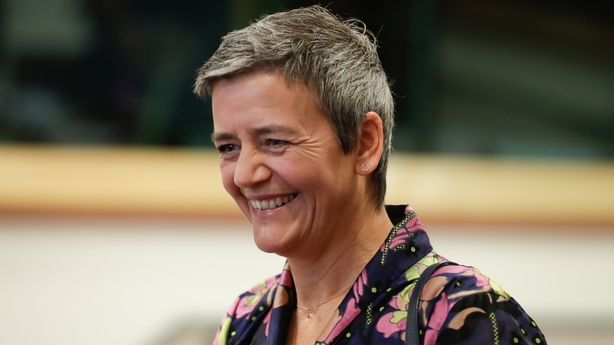 "Access to data is key for insurers to evaluate the risk they take and to offer competitive contract conditions to customers," she said.
"We have concerns that certain insurers and their agents were put at a competitive disadvantage because Insurance Ireland denied or delayed access to its data sharing system, compiling valuable information on insurance claims.
"This prevented competitive entry of new players and thus reduced Irish drivers' choice of motor insurance policies at competitive prices. Non-discriminatory access to data sharing systems is important to foster competition in markets relying on data."
The commission said today it had sent a "statement of objections" to Insurance Ireland outlining the charges of anti-competitive practices, adding that the move does not prejudge the outcome of an investigation.
Companies found guilty of breaching EU antitrust rules face fines as much as 10% of their global turnover and orders to change their business practices.
In a statement, Insurance Ireland said it noted the European Commission's preliminary findings.
"It is important to note that the Statement of Objections sets out the European Commission's preliminary views only and is not the European Commission's final decision," Insurance Ireland said.
"Insurance Ireland will now have an opportunity to respond to the Statement of Objections over the coming weeks," it said.
The organisation added that it has co-operated with the probe and will continue to do so.
"We will now assess the points set out by the European Commission and we are confident that we can allay the European Commission's perceived concerns," Insurance Ireland added.
Minister of State with responsibility for insurance, Sean Fleming, noted the preliminary findings of the investigation. Minister Fleming, who is also Chairperson of the Office to Promote Competition in the Insurance Market, also noted the comments made by Insurance Ireland.
A statement from the Department of Finance read, "Notwithstanding the preliminary findings this is a very serious matter and the Minister awaits the conclusion of the investigation."