National bus company Bus Éireann has invested €16m in its commercial Expressway inter-regional coach service, which includes the purchase of 30 new coaches for its network.
The first of the coaches will enter into passenger service in Waterford today, while the new fleet will also be deployed to Cork, Galway, Limerick, Stranorlar and Sligo.
Expressway carried six million passengers in 2019.
The investment is the biggest by Bus Éireann in its commercially operated Expressway service in more than a decade and reduces the average age of the 170-strong fleet to less than five years.
Bus Éireann said the new buses meet the latest Euro VI low emissions standards and will support the company's commitment to reducing emissions.
These commitments include a reduction of at least 70% in hydrocarbon emissions and at least an 88% reduction in nitrogen oxide compared to the 30 vehicles they will replace.
Bus Éireann published its first sustainability strategy last month, which aims to halving its greenhouse gas emissions and a 30% increase in passenger numbers by 2030.
The company has also invested more than €2.5m in a new online booking system, MyExpressway, which provides both guaranteed advance seat reservations and contactless payments on board.
The rollout of the new fleet comes ahead of the anticipated increase in capacity on public transport in the coming months and the return of airport and student travel which, combined, comprise half of Expressway's market.
Bus Éireann's chief executive Stephen Kent said that today is a big day for Expressway after a very tough 15 months, adding that it was very positive to be announcing such a significant investment in the fleet as the country emerges from the Covid-19 pandemic.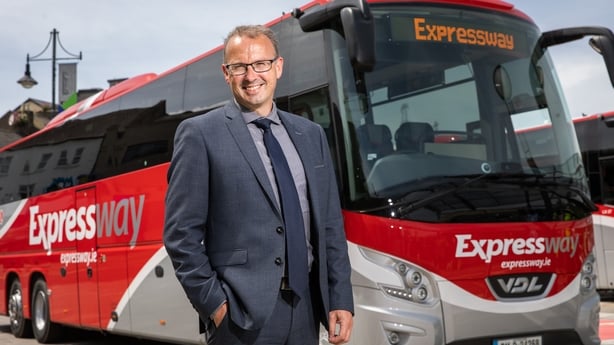 "The virtual disappearance of some of the main markets for Expressway - Dublin Airport and third level education - as well as capacity restrictions have hit the business hard, but we are optimistic about the return to more normal operations," Stephen Kent said.
"Having state-of-the-art vehicles is essential as this is a very competitive market and customer expectations are rising all the time. This investment demonstrates our commitment to the service, and to both improving the customer experience and to reducing our carbon footprint," he added.
Speaking on RTÉ's Drivetime Mr Kent said he expects the company to undergo a phased recovery that will take between 18-24 months, before it returns to pre Covid levels.
He said there's been a 50% increase on the numbers of people travelling three months ago, but the company is still 50% off where it was in 2019.
He said at the end of 2020, there was only 50 million passengers.
He said getting to 100% capacity will be the first step, the return of students to third level institution accounts for about 20% of Bus Éireann's business and also the return of international travel will see an increased number of passengers.
He said once 100% capacity returns, the services will be in place to facilitate demand.
He said a new fleet is being added to the existing services and a number of services were suspended last year because demand wasn't there.
He said as demand continues to grow, some of these suspended services are likely to return, but they will continue to monitor and decide if they should invest in new services in the future, "but it is an economic decision".