Aer Lingus said it has developed plans to replace some of the Aer Lingus Regional schedule disrupted by the decision of Stobart Air to terminate its contract to run the service.
Stobart Air's sudden announcement led to the cancellation of several flights today.
Aer Lingus this evening said it would operate five of the 12 routes and BA City Flyer will operate two more for at least the next week.
"Alternative operations for the outstanding routes are still being determined," it said.
"All impacted customers are being contacted directly and offered details of an alternative flight where feasible. All impacted customers also have the option of a full refund."
Aer Lingus will operate the Dublin/Edinburgh, Dublin/Manchester, Belfast City/Manchester, Belfast City/Birmingham and Belfast City/Edinburgh routes.
BA City Flyer will operate the Belfast City/Exeter route and the Belfast City/Leeds Bradford route.
Plans for the Dublin/Kerry and Dublin/Donegal Public Service Obligation routes are still being worked out.
Customers due to travel on the Belfast City/East Midlands, Dublin/Glasgow and Dublin/Newquay routes are being offered alternative flights.
In a statement this evening, the airline said: "Teams across Aer Lingus have been working through the night progressing alternative flying operations from tomorrow to provide a service for Aer Lingus Regional customers."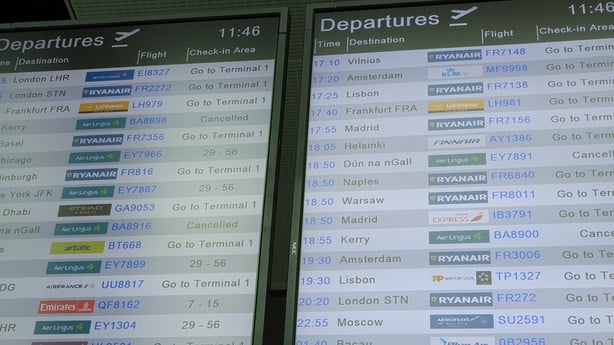 Aer Lingus said Stobart Air informed them last night it was terminating its franchise agreement with Aer Lingus and was in the process of appointing a liquidator.
Aer Lingus said it could not say how many customers were affected but apologised.
Among the first flights to be cancelled were the 9.10am from Dublin to Glasgow and the 12.25pm from Dublin to Kerry this afternoon.
In a statement, Stobart Air said it was with "great regret and sadness" that its board is in the process of appointing a liquidator and that the airline is to cease operations with immediate effect.

"This unavoidable and difficult decision means that all Aer Lingus Regional routes, currently operated by Stobart Air under its franchise agreement with Aer Lingus, have been cancelled," it said.
The company said all 480 staff have been informed of the decision and it acknowledged the "significant contribution, loyalty, dedication" of the team.
It also apologised to its customers for the inconvenience that the cancellation of flights at short notice would cause.
The airline, which is owned by UK-based Esken group, said in April that a new owner had been identified - Isle of Man-based start-up Ettyl.
"However, it has emerged that the funding to support this transaction is no longer in place and the new owner is now unable to conclude the transaction," it said.
"Given the continued impact of the pandemic which has virtually halted air travel since March 2019 and in the absence of any alternative purchasers or sources of funding, the Board of Stobart Air must take the necessary, unavoidable and difficult decision to seek to appoint a liquidator."
Stobart Air's pre-Covid operating schedule, which was comprised of over 900 weekly flights across 30 routes, has reduced by 94% since March of last year.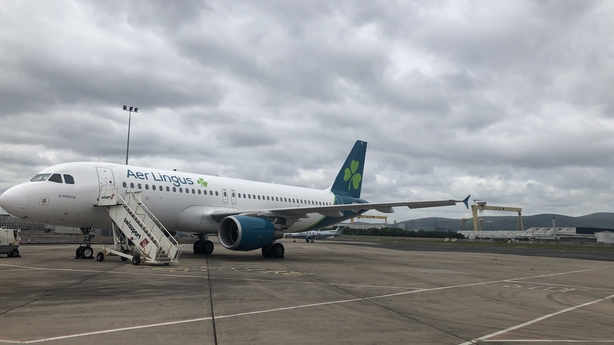 Stobart Air's contract to operate the Aer Lingus Regional service was due to expire at the end of next year.
Aer Lingus had already been in advanced talks with a new preferred bidder, Emerald Airlines, about it taking over the contract.
A memorandum of understanding has been signed by the two parties and it had been expected that a formal contract would be signed soon.
Stobart Air was headquartered in Dublin and had a fleet of 13 aircraft based in Ireland.
It was formerly called Aer Arann but was renamed in 2017 to Stobart Air when it was acquired by the Stobart Group.
Minister for Transport Eamon Ryan said the announcement today is "concerning news for the affected workers and for regional connectivity".
"We will be engaging with all stakeholders today and over the comings days to restore connectivity to the regional airports affected by today's announcement.
"Stobart were running a lot of services for Aer Lingus. Aer Lingus should be able to restore, particularly, a lot of the UK-Irish, UK-Dublin services. We expect to see them back [through Aer Lingus] straight away or fairly quickly.
"On the regional, Donegal and Kerry, it may take slightly longer to restore the services. My own department is looking at all the options. The public service obligation was due to expire next January, but we're looking at ways can we at an earlier stage quickly bring back connectivity.
When asked if the Government has been hands-off when dealing with the struggling aviation industry, Mr Ryan said: "Far from it. We've provided this sector, as with every other, huge support. To airlines, to airports, wage supports - and that will continue with the reopening of aviation, all going well, on the 19 July.
"The sector has been hit very hard but that's because of Covid. We had to under public health recommendations restrict travel, introduce quarantine, keep variants out of the country, and no one wanted to do that."
The Fórsa trade union, which represents 120 cabin crew in the airline, along with pilots, said staff based in Dublin, Cork and Belfast were devastated at hearing the news.
Fórsa national secretary Ashley Connolly said Stobart had been working with the union to try to navigate a path through the pandemic.
The Irish Air Line Pilots' Association said it was "extremely disappointed" with the announcement.
It said Stobart Air's demise "reflects a failure of government policy to support Irish Aviation despite the industry being effectively shut down for almost 18 months".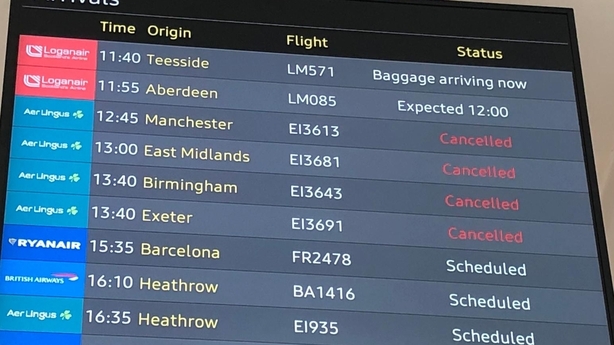 Yesterday, Aer Lingus also announced it had cancelled a number of flights to European destinations due to poor demand from customers.
The routes have been cancelled for the remainder of 2021.
Additional reporting Aengus Cox, Mícheál Lehane, Laura Hogan