New figures from the Central Statistics Office show that the number of homes granted planning permission fell by 50.7% in the first quarter of this year compared to the same time last year.
The number of apartment units granted planning permission decreased by 57.2% to reach 3,874, while the number of housing units which received planning fell by 39.3% to 3,089.
The CSO said this is mainly due to the decrease in the number of Strategic Housing Development (SHD) dwelling units approved in the first three months of the year.
A slump of 68.4% was reported in the number of housing and apartments units granted permission via SHD applications.
Permissions were granted for 7,291 apartments and 1,938 houses via SHD applications in the first quarter of 2020 compared with 2,774 apartments and 146 houses this quarter - decreases of 62% and 92.5% respectively.
The CSO noted that more apartments than houses were granted planning permission in the first quarter of 2021, a trend which has continued every quarter since the third quarter of 2019.
Meanwhile, the number of permissions granted for extensions grew by 26.2% in the first quarter of 2021 compared to the same time in 2020.
---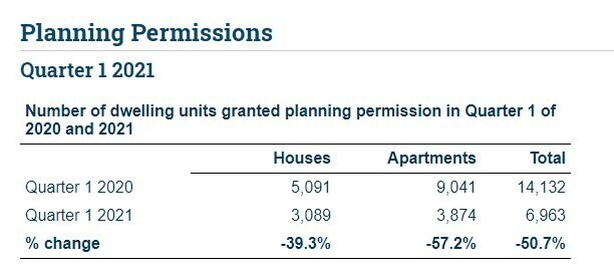 Today's figures show that a total of 7,511 planning permissions were granted for all developments in the first quarter of 2021 compared with 6,649 for the same time in 2020, an increase of 13%.
Of these approvals, 26.1% of permissions were for new homes, 27.1% for other new construction and 46.8% for extensions, alterations and conversions.