Ulster Bank and the Financial Services Union said they have concluded talks on a new deal to facilitate the phased withdrawal of Ulster Bank from the Republic of Ireland market.
The agreement, which includes proposed enhanced redundancy payments and training, is subject to a ballot of FSU members.
Gareth Murphy, Head of Industrial Relations and Campaigns with the FSU, said the proposals provide a framework for maximising job protection and providing improved redundancy terms for the workers who will leave the bank.
Ulster Bank in February announced a phased withdrawal from the Irish market over the coming years, which it said will be managed in an "orderly and considered manner".
The bank, which is owned by UK lender NatWest, has 2,800 staff in 88 branches around the country.
Key highlights of today's proposals are improved redundancy terms and a commitment to discussions on each potential transfer with regards to transfer of business (TUPE) and options where possible.
They also include a commitment to maintaining "decent" working conditions and employee financial well-being as well as a promise to continuing the collective bargaining approach for pay for the remainder of the bank's withdrawal process.
Ulster Bank has also proposed increased spending on training for those still employed in the bank and a commitment to find a long-term positive solution for pensions.
The new proposed redundancy terms include five weeks per year of service inclusive of statutory or four weeks per year of service plus statutory, whichever is greater. This will be capped at two years' salary or £300,000, whichever is smaller.
The proposals also include a €5,000 retraining grant or as a pension Additional Voluntary Contribution.
The bank is also proposing to pay a long-service payment of €5,000 for 25 to 30 years' service and €7,500 for over 30 years' service.
Gareth Murphy said the last few months have been very difficult for Ulster Bank staff.
He said the main concerns of the FSU were to ensure the application of TUPE legislation and to negotiate improved redundancy terms for members at Ulster Bank.
TUPE legislation insures a worker's rights are protected if a business is taken over by another company as a result of a legal merger or transfer.
As part of the phased withdrawal, Ulster Bank is in talks with AIB about the sale of a €4 billion portfolio of performing commercial loans. Under the terms of the deal, Ulster Bank staff working on these loans will also transfer to AIB.
Ulster Bank also said it is in early discussions with Permanent TSB about its potential interest in buying certain retail and SME assets, liabilities and operations.
"Staff have different requirements, some with long service and some with short service, there are staff who would like to transfer with loan sales and those who would like to stay in Ulster Bank if they can," the FSU's Gareth Murphy said.
"We have tried to accommodate these different priorities of our members into one collective agreement. Only by acting collectively could we unite this diverse membership and achieve a good set of proposals," he added.
FSU members will proceed to ballot on these proposals over the coming weeks with a result known by July.
Ulster Bank's chief executive Jane Howard said today's agreement is a significant milestone in the bank's phased withdrawal from the Irish market.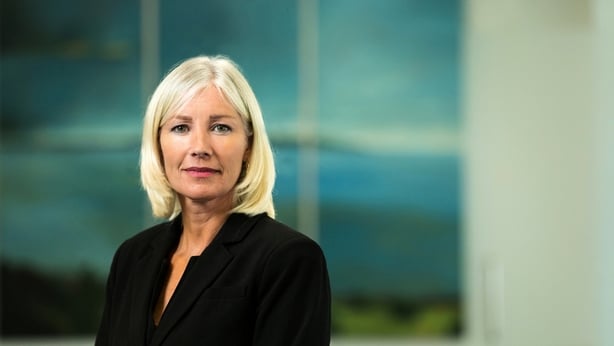 "While it is subject to ballot, I am confident that with the support of the Financial Services Union, we have developed a comprehensive, colleague-focused agreement which will underpin our principles to withdraw in a fair and responsible way for colleagues, customers and stakeholders," Jane Howard said.
Ulster Bank said it maintains the commitment that there will be no compulsory exits from the business this year.
"We will continue to keep colleagues and their representatives updated as the withdrawal activity progresses further. We will endeavour to provide as much clarity as possible for our colleagues, as early as possible," the bank said.