The Minister for Finance has said that Ireland will adapt to any changes that are made to the global corporation tax system in the future.
Paschal Donohoe reiterated his view that change is coming to the system and added that he believes agreement at a global level will be achieved by the end of the year.
"We will adopt to this change as we have done before," Mr Donohoe said at the launch of the National Asset Management Agency annual report.
"Ireland will remain an attractive place for inward investment and the discussions over the weeks ahead will be very important and Ireland will be working hard to achieve an agreement that we believe is sustainable and equitable."
The minister said the Government believes it is in the interests of all to achieve a sustainable, ambitious and equitable agreement that modernises the international framework for corporation tax to reflect increasing globalisation and the digital nature of our economy.
Ireland has played its part in reframing the rules as part of the reform process that has been ongoing since 2013, he said, and the tax code here has been proactively and diligently reformed in line with others.
He added that Ireland has constructively engaged in the discussions through the OECD to find solutions to address the broader tax challenges of digitalisation.
The Government notes the communique from the G7 finance ministers at the weekend around a proposed global minimum corporation tax rate of 15%, Mr Donohoe said.
"This minimum rate does create challenges for Ireland and for other small countries for obvious reasons," Mr Donohoe said.
"Any agreement must be able to accommodate healthy and fair tax competition. At the same time we strongly believe in the need for robust boundaries to guard against aggressive tax planning."
"We also believe that as we emerge from the pandemic we need to ensure we have a positive and growth friendly business environment that encourages investment and innovation."
He said the G7 agreement is an important signpost towards an agreement at the OECD, but it is also relevant that there are 139 countries at the table and any agreement does need to get the agreement of small and large countries, developed and developing, he added.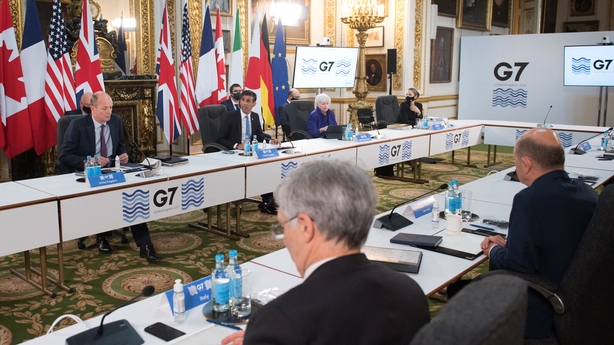 Mr Donohoe said agreement has not been reached on the many complex dimensions in the negotiations and further talks will take place later this month and in early July.
"It is still to early at this point to be able to say that agreement can be reached on a figure...there is much to go before we get to a point of any agreement," he said.
But he acknowledged that if a global minimum tax rate is agreed and depending on the parameters set around which companies would have to pay it, it is possible that some Irish businesses could be inside the framework of the agreement and would have to pay that rate here.
He said Department of Finance officials have already estimated that the cost of the OECD proposals to Ireland's corporation tax take would be of the order of up to €2bn annually or approximately a fifth of corporate tax revenue.
He said the loss of the revenue would happen gradually and has already been factored in to the Government's figures.
He added that it would be not be cause for changes in tax policy, unless the Government decided it wanted to spend a further €2bn a year across the medium term.
Mr Donohoe said he doesn't see the €2bn figure changing over the years between now and 2025 or 2026 because there would be a period of implementation.
However, the minister added that it could change beyond that.
In the forthcoming negotiations, Mr Donohoe said he would be making the case strongly for Ireland's 12.5% tax rate and for healthy and legitimate tax competition.
"We find ourselves in this difficult moment of change that is approaching where an agreement does pose challenges for Ireland, challenges that I am confident we can rise to," he stated.
"But the lack of agreement could also lead to a really uncoordinated approach to corporate tax policy across the world and Europe, could lead to issues like the proliferation of national digital levies and issues in relation to mismatches in transfer pricing, which would also pose challenges for us."