The Government expects to boost revenue generated from Local Property Tax to €560m next year from around €480m - by ending some exemptions and increasing the amount paid by around a third of homeowners.
Minister for Finance Paschal Donohoe has today published new legislation on the property tax.
Rates have been cut and bands widened, while changes have been made to include new properties built since 2013.
What are the biggest changes in today's Local Property Tax legislation?
The biggest changes in today's bill will be to bring the 100,000 or so new homes which have been built since 2013 into the property tax net.
The changes will also see all properties revalued every four years, while all homes will be revalued on 1 November.
But rates will be reduced and bands widened.
How will this impact property owners?
Over half of people (53%) will see no change, according to analysis by the Department of Finance.
It said 33% may see their tax go up one band, which would be an increase of up to €100.
While 3% may see a jump of two bands, or over €100.
11% of property owners may see a decrease in their tax.
Why was the LPT introduced?
The Local Property Tax was introduced in 2013 to provide a stable funding base for local authorities and to deliver significant structural reform by broadening the tax base in manner that does not directly impact on employment.
The tax was calculated based on the valuation of the property on 1 May 2013.
The Government put off increasing the charge for a number of years and softened the impact of a near doubling of house prices from their post-financial crisis lows in 2013 by cutting the tax rate and widening the valuation bands it is levied on.
The proposed changes to the LPT regime announced today will be legislated for in the Finance (Local Property Tax) (Amendment) Bill 2021.
The Revenue Commissioners will then make the essential technical and administrative preparations in advance of the valuation date of 1 November 2021.
What is happening to the LPT bands?
Finance Minister Paschal Donohoe said he is maintaining the number of LPT bands at 20 - but they are being expanded.
Band 1 is expanded from €1 to €200,000 and Band 2 contains values in the range €200,000 to €262,500. The LPT charge is fixed at the current charge for Bands 1 and 2 (€90 and €225 respectively).
The other bands are widened by 75% to create bands of €87,500 (increased from the current range of €50,000).
For properties in bands 3-19, a mid-point rate of 0.1029% will be charged.
Properties in bands 12-19 (between €1.05m and €1.75m) are charged a mid-point rate of 0.1029% on the first €1.05m and 0.25% on balance over €1.05m.
Properties in Band 20 are charged on individual property values as before (0.1029% on first €1.05m and 0.25% between €1.05m and €1.75m, and 0.3% on balance).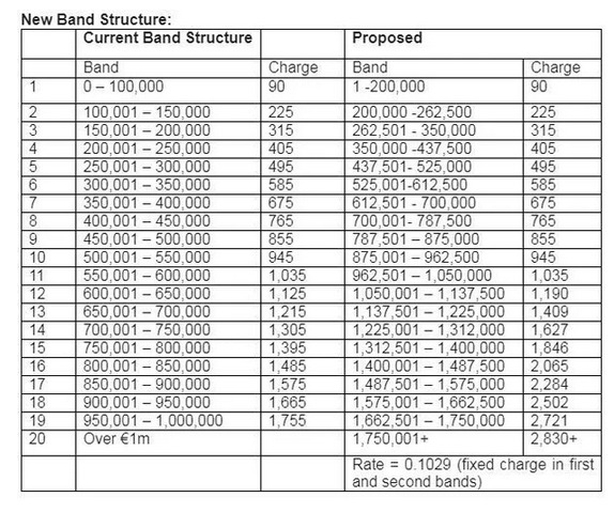 How will this impact how much I pay?
The amount you pay will all depend on the value of your property and the band it falls under.
For example, a house in Dublin valued at €260,000 in 2013, with an estimated value in 2021 of €445,000, (an increase in value of around 71%) will remain in Band 5, with a charge of €495.
Take a house in Cork, valued at €235,000 in 2013, with an estimated value today of €300,000, (an increase in value around 28%) will drop from Band 4 to Band 3, with your bill dropping from €405 to €315.
If we look at a high value property based in Dublin, valued at €1.05m in 2013, with a current estimated value of €1.6m, the owner will see their bills increase from €2,063 to €2,502, with a move from Band 20 to Band 18.
For a Dublin property valued at €2.35m in 2013, with a current value of €2.61m (an increase of 11%), the property will remain in Band 20, with the charge dropping from €5,825 to €5,760.
What exemptions are ending?
Some property owners that have been exempt from paying LPT will now have to pay the tax.
The exemption for those living in so-called 'ghost estates' will end, while the temporary exemption in respect of pyrite damaged properties in certain eastern counties and Limerick will be phased out.
In 2020, 1,866 properties were LPT exempt under the pyrite exemption.
The Government has said for homeowners affected by pyrite and mica in counties Donegal and Mayo, a temporary exemption from LPT will be provided.
Currently properties vacated by their owners due to illness can be exempt from LPT - only where the property is not occupied by another person.
However, moving forward the Government said it will remove this condition, allowing the property to be rented out and remain exempt.