Households are continuing to save more and borrow less, according to the latest Money and Banking Statistics from the Central Bank.
In annual terms, savings increased by €14.9 billion in April, or 12.9%, the Central Bank said.
Deposits increased by €2.2 billion in April. This compares to an increase of €3 billion in deposits in the same month last year.
Repayments exceeded new lending by €242m (0.3%), which the Central Bank highlighted "weak lending flows".
The Central Bank also said that the growth rate of mortgages was positive at 0.6% in annual terms but this compares to an annual rate of 1.8% in April last year.
The net flow of lending for house purchases last month was €408m - the lowest since May 2018.
---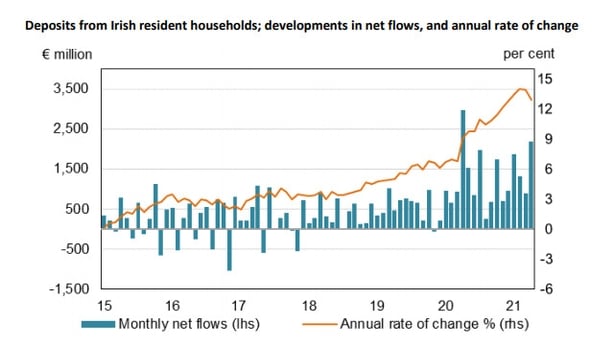 ---
Consumer lending continues to decline, today's figures reveal.
On an annual basis, repayments were greater than new lending by €554m or 4.6%.
Loans to companies was up €69m last month but repayments were greater than new loans by €3 billion on an annual basis.
This is the largest increase in repayments since February 2016, the Central Bank said.
The annual rate of total lending to companies was -7.5%. In April 2020, the annual rate was +3.5%.
Meanwhile, separate figures from the Central Bank show that spending on debit and credit cards fell in April on a monthly basis.
Total card spending was 5% or €350m lower in April compared to March.
However, the latest daily data published at the end of last week showed weekly spending increasing in May compared to April.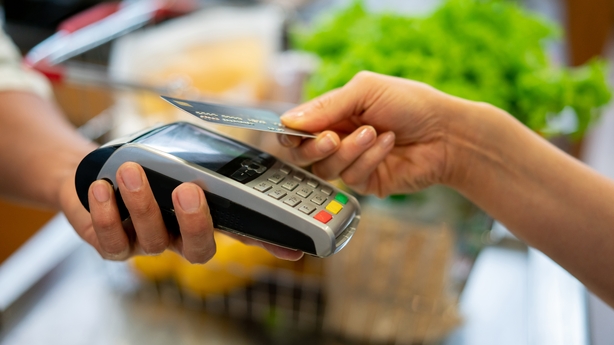 Online spending has fallen but still accounted for 51% of spending in April.
The Central Bank said that in-store spending was down 4% although it was up 58% compared to April 2020 when coronavirus restrictions were in place.
Spending on accommodation did rise in April compared to March, increasing by 17% or €6m.
This was 700% higher than what was spent, or rather not spent, on accommodation in April last year, the Central Bank added.