The Irish Travel Agents Association (ITAA) has welcomed the news that non-essential international travel will resume from 19 July, saying it has been a difficult 16 months its members.
The association said while travel agents haven't been trading, they have remained open to assist customers with refunds and rescheduling bookings.
The ITAA is now calling on Government to provide added business supports for travel agents due to the delay between advance booking and travel, which means that travel agents often have to wait for a period of many months before they see any revenue from bookings.
"In order to ensure a successful restart for our industry, we are asking Government to provide the necessary business supports to avoid another blow to our industry after such a difficult year," said Pat Dawson, CEO of the ITAA.
Mr Dawson said there is a delay between booking and travel.
"This means that our sector must work for 6 to 9 months before we actually count the income generated from advance bookings," he said.
For those considering booking a holiday abroad, the association is encouraging consumers to book with Irish-based ITAA member travel agents.
"Consumers who book with a bonded, licensed travel agent are guaranteed protection under the European Package Travel Directive, which is not guaranteed when booking 'do-it-yourself' holidays," he explained.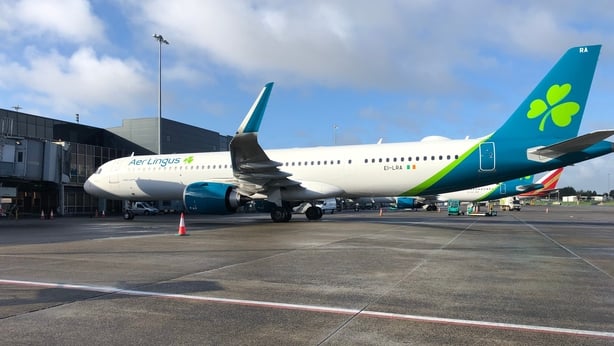 Meanwhile, Aer Lingus said today's announcement by Government is a first step on the "long road" to rebuilding aviation in Ireland.
"This future lifting of travel restrictions will give the opportunity for people to see friends and families and enjoy a much needed holiday over the latter weeks of the summer," the airline said in a statement.
Aer Lingus said it welcomed the proposed removal of the US from the Mandatory Hotel Quarantine list from tomorrow.
However, it said flying schedules will be a fraction of normal levels for some time to come.
"While Aer Lingus welcomes the easing of travel restrictions announced today, it will not facilitate a significant level of travel to and from Ireland during the critical summer months of 2021.
"It is also disappointing that the reopening of the Common Travel Area is delayed and that EU approved rapid antigen testing has not been approved as a standard of pre-departure testing," the statement said.
With restrictions in place until late July, Aer Lingus said it will continue to burn a significant amount of cash over the coming months.
"The cumulative consequences of the crisis over the last 15 months leaves Aer Lingus facing significant restructuring to rebuild its network and financial strength."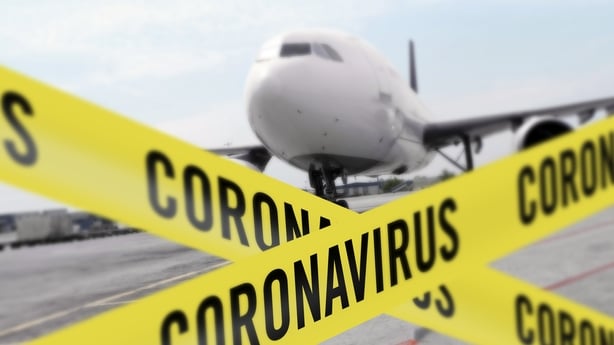 Earlier, the daa said it could be as far away as 2025 until the aviation industry gets back to pre-pandemic levels.
Speaking on RTÉ's News At One, daa Communications Officer Paul O'Kane welcomed the resumption of travel from mid-July and said they would be working with all airlines to resume service as quickly as possible.
Mr O'Kane said flights numbers have been down 83%, with passenger figures down by 95% as a result of the pandemic.
"Realistically to get back to where we were in 2019, you could be looking at 2024-2025. People seem to have this notion that as we reopen, a switch would be flicked and we'll have all this connectivity and capacity back again. That's not the case," he said.
Mr O'Kane said while a lot of the focus has been on recreational holidays, the return of travel will see families reunited.
We need your consent to load this rte-player contentWe use rte-player to manage extra content that can set cookies on your device and collect data about your activity. Please review their details and accept them to load the content.Manage Preferences
"So much of the focus on this is about sun holidays. I would argue this isn't as much about sun holidays as it is about reuniting mothers with their sons," he said.
"This is about reuniting families that have been separated for a very, very long time. People haven't seen grandchildren, they haven't seen people who've been married, there's all sorts of families that have been displaced all over the world," he added.
Mr O'Kane said Ireland was very fortunate to have two strong home-based airlines, adding that they will have to work really hard to get routes back.
He said details still remain to be worked out with regard to the Digital Covid Cert for travel, adding that clarity is needed on its implementation and how it works.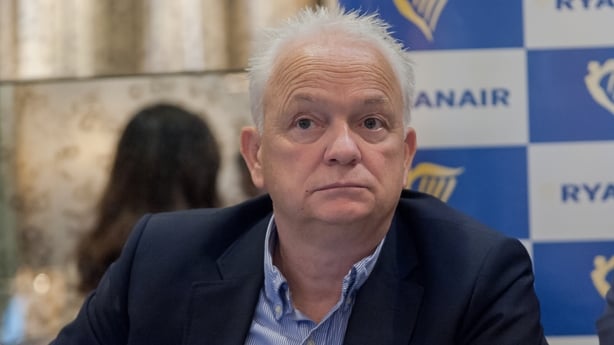 Meanwhile, Eddie Wilson, the chief executive of Ryanair, has said that the Common Travel Area with the UK should be restored from June 1 and non-essential travel within the EU restored from July 1.
Mr Wilson said that bookings with Ryanair have trebled over the last six weeks, with many Irish people booking to fly from July 1 and many favouring flights to Spain.
We need your consent to load this rte-player contentWe use rte-player to manage extra content that can set cookies on your device and collect data about your activity. Please review their details and accept them to load the content.Manage Preferences
Mr Wilson told the News at One that people are moving freely between Ireland and part of the UK -- Northern Ireland - and that it is 'nonsense' to inconvenience air travellers who can travel to the UK via Belfast.
He said that there is a "complete blind spot" in Government on this issue and that the NHS in the UK has said the vaccines are working against the Indian variant of Covid-19, as well as reducing spread and improving outcomes for those who are infected.
"We have this idea that we can maintain a block on the Common Travel Area when we have a 500 kilometre land border with the UK that has been open throughout the pandemic," he said.
He claimed that people are moving freely across the border, and from Northern Ireland can move freely to the UK so it is 'nonsense' to 'discommode' air travellers by keeping Irish airports closed to UK flights.
Mr Wilson said hotels in Northern Ireland are full this weekend, largely from people south of the border travelling to Northern Ireland.
He said it is not about public health advice as the vaccines are working.
On international travel, Mr WIlson said that Ireland should align itself with Europe and follow the lead of Italy, Spain and France who are allowing unrestricted EU travellers from June 9.
Mr Wilson said the Digital Covid Certificate should be in place sooner and the need for mandatory quarantine for travellers from France, Belgium and Luxembourg removed.
He said that Ryanair plans to have most European destinations open this summer, but with less frequency as it gradually re-builds its schedules.