Two energy providers, Flogas and Panda Power, have today announced increases in their electricity and gas prices from June.
Flogas said it is raising its residential natural gas and electricity prices from June 26, while Panda Power also said it would hike its prices from June 25.
Due to what it called significant and continuing increases in wholesale energy costs in recent months, Flogas said it will increase its standard natural gas rate and standing charge by 8.9%.
But it said that due to a 10% price cut implemented last October, followed by an increase in March 2021, the net impact is a 4.4% increase on last year's prices.
It also announced a 12.5% price increase to its standard electricity unit rates and standing charges.
The increases will mean a €1.49 weekly increase (including VAT) for natural gas customers and a €2.93 hike a week for electricity customers (including VAT).
Paul Kenny, general manager of Flogas Energy, said it is unfortunate that the company has to make further increases in prices this year, but said they are necessary due to the same rising wholesale costs that have affected all suppliers.
"We are keeping our prices as competitive as possible for our customers and will be continually reviewing as the market changes, but it is difficult to forecast any significant improvements in the medium term," he added.
Panda Power also said today it would increase its prices due to the continued increase in the cost of wholesale energy together with significant market infrastructural and capacity issues in Ireland.
It said the planned increase will see household electricity and gas bills increase by 9.8%.
This is equivalent to a €141 and €98 per year increase, respectively, to customers' Estimated Annual Bill (EAB) based on a residential customer using typical consumption a year on standard tariffs.
The increases will be significantly lower for customers on discounted plans, it added.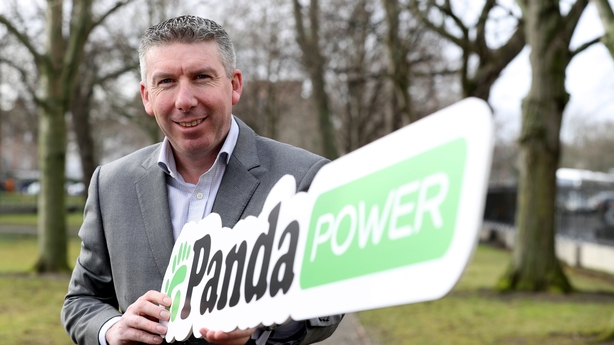 Panda Power's Managing Director Brendan Traynor said the increase in prices is as a result of a couple of key factors beyond its control in providing electricity and gas to its customers.
Mr Traynor said the high percentage of power plants on long term outages has reduced the level of power generation available in Ireland which has significantly increased the cost to supply energy over the last six months. He also cited the continued rise in the cost of wholesale electricity and gas as a factor behind the hike.
"The decision to increase prices is unfortunate but is unavoidable under the circumstances. We remain committed to offering our customers long-term value and discounted rates each year that they are with us," he added.
Panda Power and Flogas only last increased their prices in April.
Commenting on today's developments, Daragh Cassidy, head of communications at Bonkers.ie, said that we are now clearly back in a period of rising energy prices.
But he said that the cost of electricity in particular on the wholesale market has almost trebled since July of last year so unfortunately these increases were almost inevitable.
"The lack of wind energy output over the past few months, the shutdown of some back-up power plants for maintenance, and the rise in the price of coal and gas on international markets are just some of the reasons for the increase. It's been a real triple whammy," Daragh Cassidy said.
"Irish electricity prices are the fourth most expensive in the EU and these increases aren't going to help," he added.