UK retailer Marks & Spencer has forecast a rebound in profit this year after an 88% slump in 2020-21 that reflected a collapse in clothing sales due to the Covid-19 pandemic.
But it warned investors today not to expect a dividend this year.
M&S Chief executive Steve Rowe said the results masked progress made in the 137-year-old group's latest turnaround plan, while trading in the early weeks of its new financial year had been encouraging.
Shares in M&S were up 7.3% at 167.4 pence today. They were changing hands for 236 pence in May 2019.
Rowe, along with chairman Archie Norman, has focused on transforming the company's culture, improving clothing and food products and value to broaden its appeal.
They have also closed stores and invested heavily in technology and e-commerce, including a joint venture with Ocado.
"By going further and faster in our transformation during this period of disruption,we have now moved beyond fixing the basics to forge a reshaped M&S that is ready for the next phase," the CEO said.
"We now have a clear line of sight on the path to make M&S special again," he told reporters.
With online penetration of its clothing and home business expected to grow to up to 50%, Rowe said M&S would accelerate the re-shaping of its store estate.
M&S currently has 254 full line stores, selling clothing and homeware and food. It is now targeting a fully modernised core of about 180 stores.
The group said it made a pretax profit before one-off items of £50.3m in the year to April 3, down from £403.1m in 2019-20.
Like-for-like clothing and homeware sales plunged 31.5%, damaged by multiple coronavirus lockdowns which shuttered stores. Clothing and homeware sales in stores crashed 56.2%, partly offset by online growth of 53.9%.
In food, where space remained open during the crisis, like-for-like sales rose 1.3%.
On a statutory basis M&S sank to a pretax loss of £209.4m compared to a profit of £67.2m in 2019-20.
All UK clothing retailers have been hit hard by the pandemic.
Last month Primark, which does not trade online, reported a drop in annual profit of 90%. Next, which has a huge online business, has shown greater resilience but its full-year profit still fell 53%.
M&S said trading for the first six weeks of the 2021-22 financial year had been ahead of the comparable period two years ago and its central expectations.
It forecast underlying pretax profit to recover to £300-350m in 2021-22 and a further reduction in net debt.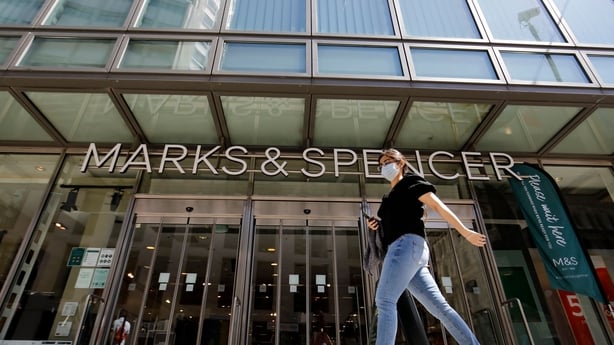 Marks & Spencer said today it plans to have about 30% fewer combined clothing and food stores in 10 years time as more sales shift online, but will still open new shops when prime sites - like six former Debenhams outlets - become free.
M&S has closed or relocated 59 such "full line" stores over the last three years, leaving it with 254.
Its new target is to have a fully modernised core of about 180, in addition to its chain of food-only stores.
CEO Steve Rowe said that would be achieved by "rotating the estate" at 110 locations.
About 35 full line stores will be relocated, about 45 will become food stores and about 30 sites will be exited over a ten year period, he told reporters after M&S published 2020-21 results.
"The market dynamics have changed and the effect of the pandemic means that we need to move faster," Rowe said.
"The good news is that there has rarely been a better time to acquire new space," he said.
Rowe said M&S has 17 new or extended full line stores in planning, including six former Debenhams sites, in the next two years.
Debenhams collapsed in December, with its last stores closing earlier this month.
To help fund the store estate plans, M&S plans to raise at least £200m by redeveloping freehold and long leasehold stores, including its flagship Marble Arch store in central London.
"We're committed to stores and believe they could be a true source of competitive advantage, but they do need to be the right stores in the right location with the right services and they have to work with online," added Rowe.
M&S estimated the cash costs of the programme at about £260m.