Hibernia REIT has reported a loss after tax of €25.2m for the year to the end of March while the value of its portfolio slipped 4.4% to total €1.427 billion
The real estate investment trust had reported a profit after tax of €61m the previous year.
Hibernia REIT specialises mostly in commercial and industrial developments.
It said that given market conditions, its leasing activity in the financial year was limited and contracted rent grew 2.2% to €67.1m, mainly as a result of new lettings, rent reviews and lease variations.
Its rent collection rates for the financial year averaged 99%, it added.
The company has proposed a final dividend per share of 3.4 cent, taking the total in respect of the financial year to 5.4 cent, an increase of 13.7%.
Kevin Nowlan, chief executive of Hibernia, said the business delivered a resilient performance in the financial year despite the extraordinary circumstances resulting from the Covid-19 pandemic.
"While we recorded a net loss due to a modest decline in portfolio value, our continued high rent collection rates have helped deliver double-digit growth in EPRA earnings and dividends," Mr Nowlan said.
He said Hibernia REIT's Clanwilliam Court and Harcourt Square schemes now have full planning permission and both can be started over the next 18 months.
When complete they will increase the proportion of its office portfolio held in clusters to 65%.
During the 12 month period, the company invested €11m in small acquisitions to enhance its existing properties, €17m in development expenditure, while it also executed a €25m share buyback programme.
"With Ireland's vaccination programme gathering pace and a government roadmap for the easing of lockdown restrictions, optimism is growing and this is starting to be seen in active demand for office space and tenant enquiries," Kevin Nowlan said.
"While the near-term outlook is likely to remain tied to progress on "unlocking", we are optimistic on our longer-term prospects given our clear strategy, exciting development pipeline, balance sheet strength and talented team," he added.
During the year, the company invested €16.8m in development expenditure, mostly on 2 Cumberland Place and 50 City Quay.
These schemes, which will deliver 62,500 square feet of new office space, were scheduled to complete in early 2021 but have been delayed by the shutdown of development sites and are now expected to complete in July 2021.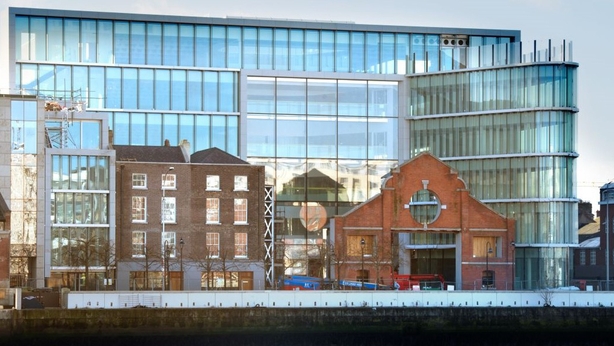 Longer term, Hibernia said it is assessing its in-place office portfolio for improvement opportunities, adding that it owns 155.2 acres of land and industrial assets in Dublin with potential for rezoning in future for mixed-use schemes.
Hibernia said its active demand tracker, run in conjunction with Cushman & Wakefield, saw a 30% fall in active demand to 2.3 million square feet between February 2020 and December 2020.
But it said the first signs of a recovery are now beginning to emerge, with 2.7 million square feet of active demand at the end of March 2021, representing a 17% increase on the position at the end of December 2020.
It also noted that the overall Dublin office vacancy rate increased to 9.9% at the end of March 2021 from 6.5% the same time last year.
The Grade A vacancy rate in the city centre, where all of Hibernia's office portfolio is located, was 9.8%, up from 5.9% at 31 March 2020, it added.
The company's projects include One Dockland Central, Guild House, The Forum, 1 Sir John Rogerson's Quay, The Observatory Building, 1 Windmill Lane, The Hanover Building, 11 Lime Street, 8-12 Hanover Street East, Central Quay, South Dock House, Cumberland House, Marine House, 1 Earlsfort Terrace, Hardwicke House, Montague House, Harcourt Square, 39 Harcourt Street, 35-37 Camden Street, The Chancery Building, Cannon Place, Dundrum View, Block 3 at Wyckham Point and the Gateway Site.