New figures from the Central Statistics Office show that there were just over 900,000 people in March either on the Live Register or in receipt of the Pandemic Unemployment Payment and the Employment Wage Subsidy Scheme (EWSS).
The CSO said the numbers either on the Live Register or PUP in April was 556,273, down just over 61,000 or 10% since March.
The Live Register stood at 177,969 in April. When adjusted for seasonal factors, it stood at 181,800, down 3,500 on the previous month.
The number of people on the PUP in the last week in April was 385,211, down 58,036 on March.
The numbers receiving PUP have been declining since the week of February 14.
---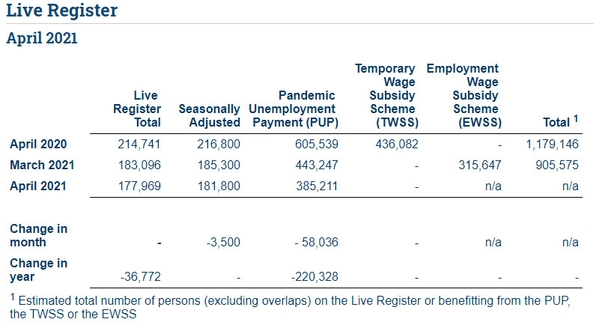 ---
The high point for the number of people either on the Live Register, the PUP or one of the Government's wage subsidy schemes was 1,179,146 in April 2020. The low point was September 2020 when it was 740,410.
This means that the number of people on the PUP in April of this year is 220,328 lower than last year.
The CSO says information on the numbers on the PUP in full time education is "not complete". It depends on recipients certifying their status when they first apply for the payment.
However, according to the CSO, at the end of April approximately 25% of people, or 95,459, on the PUP were under 25.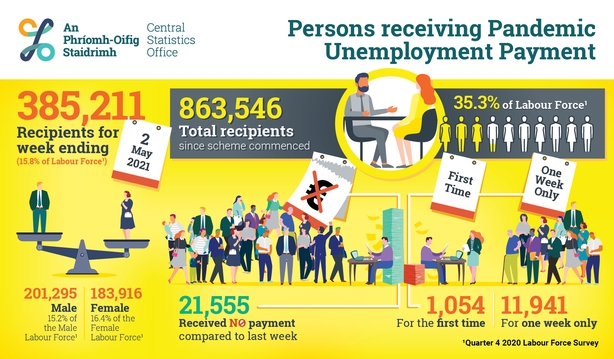 The CSO estimates that only 1.3% of those over 25 are in full time education, while "at least" 33.8% of those under 25 are.
This would mean approximately just over 32,000 full time students are in receipt of the PUP.