AIB has today reported a return to profitability in the first quarter of 2021 and said it was confident of achieving its full year guidance for a resumption of normal dividends and recovery in lending.
In a trading update, AIB said the regulatory approval process is underway for the deal to buy Goodbody Stockbrokers, while its joint venture proposition with Great-West LifeCo is progressing well.
The bank also said that talks with NatWest for the acquisition of Ulster Bank's €4 billion performing corporate and commercial loan portfolio have progressed "constructively". It will update the market in due course, it added.
AIB, which posted a €931m loss last year due to pandemic-related bad loan provisions, said its total income was down 4% year on year to the end of March.
The country's biggest mortgage lender said it had increased capital levels slightly from the end of last year while it kept its operating expenses stable.
It said that momentum was gathering on boosting its net interest income recovery through the imposition of a negative interest rate with deposits at negative rates more than doubling to €10 billion since the end of 2020.
AIB said that customer deposits increased by 3% from December to €84.5 billion as people's savings continue to accumulate, while credit card debt and overdrafts declined.
But it added that it expects this trend to reverse on the re-opening of the economy as discretionary spend increases, as seen in the third quarter of 2020.
AIB said the lockdown in the first quarter hit consumer credit demand which led to a 30% decline in new personal lending compared to the first quarter of 2020.
But it noted that the SME sector, supported by government measures, remained resilient and the bank saw a 3% increase in new lending compared to the same time last year.
AIB said the Irish mortgage market performed strongly in the first three months of 2021 with total drawdowns up 7% on last year.
It also predicted a "solid" rise in mortgage lending with market estimates revised to about €10 billion for 2021.
It said its pipeline shows strong applications and approvals data both at market level and AIB's share of the mortgage market, which gives it confidence in its full year performance.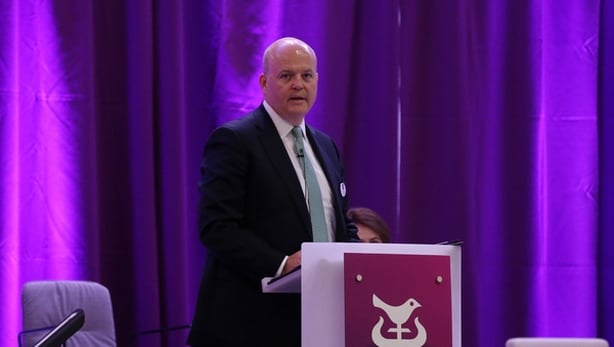 AIB chief executive Colin Hunt said that as the bank looks to the rest of 2021, it is expecting a strong recovery as the economy re-opens and the roll-out of vaccines gathers momentum.
"As our industry undergoes significant change, our strategic clarity gives us confidence that our strong balance sheet, digital capability, distribution and franchise will enable us to grow, serving our customers and the communities in which we operate," Colin Hunt said.
"As previously announced, we are progressing a number of acquisition opportunities to complement our existing strong customer propositions. We look forward to updating the market on these initiatives at the appropriate time later in the year," the CEO said.
"As Ireland emerges from lockdown and the vaccine roll-out continues, we are confident about the outlook and our ability to generate sustainable shareholder returns and meet our medium-term targets by 2023," he added.
AIB defends handling of tracker mortgage customers but admits mistakes were made
Separately, the bank's deputy chairman has defended the firm's handling of its tracker mortgage customers.
However, addressing the bank's virtual AGM, Brendan McDonagh reiterated the board's view that mistakes had been made on the issue.
"As was stated previously, that the board does deeply regret the tracker mortgage issue ever occurred," he said.
"The company made mistakes. They are staying on the bank's record. However, this board on behalf of all its stakeholders and its customers, has worked to remedy as quick as possible all of the mortgages identified through the overall tracker examination process," he stated.
"And that exercise is largely now complete, with over 99.9% of all customers having received the appropriate compensation," he added.
His response followed a call from shareholder and consumer advocate Brendan Burgess for Mr McDonagh to consider his position, as a result of the bank's handling of the situation.
Mr Burgess said Mr McDonagh has been on the board of AIB since 2016.
During that period it approved the argument that those customers who were not offered a tracker at the prevailing rate when they should have been, did not suffer a breach of contract and were not disadvantaged.
Last year the Financial Services and Pensions Ombudsman (FSPO) found in favour of an AIB customer who had been on a fixed rate and on expiry of that, should have been offered the option of another fixed rate, a standard variable rate or a tracker at the prevailing rate.
However, they were not offered the tracker option.
The ruling had implications for nearly 6,000 other AIB customers and the company subsequently decided to offer them compensation, at a total cost of €300m.
"Why did you not point out that these arguments made no sense to any reasonable person?" Mr Burgess asked.
"Why did you have to wait for the Financial Services Ombudsman to point out that it made no sense?".
Mr Burgess said AIB's slogan is "Backing Brave", but it takes bravery to admit you were wrong and fix the wrong done to customers.
Brendan McDonagh said the board has discharged its duties in the best interests of the company and all its stakeholders, including its customers.
He said the bank's view was always that this customer group had not been disadvantaged by not being offered a tracker mortgage, as they would have been more expensive at the time than other rates on offer.
But he said on foot of the FSPO's final decision in March last year regarding a complaint made by one of the customers, the bank had decided to apply the same level of compensation to all of the customers and acted as quickly as possible.
At the AGM, shareholders also voted in favour of a resolution that will give the bank the power to buy back up to 5% of the company from the state if conditions allow.
However, Mr McDonagh said there is no current plan or intention to exercise this authority.
"And any exercise of it in the future would only be contemplated by the board and undertaken if it considers that such a transaction would be in the best interests of shareholders as a whole and relevant regulatory approvals are in place," he said.
The move is aimed at putting the lender, which is currently 71% state owned, in a position to more rapidly return to full private ownership.
Under the plan, the bank would with the agreement of the Minister for Finance be able to buy back portions of the state's stake, at a time and number of occasions as its directors deem appropriate.
However, the amount will be capped at 4.99% for a 12-month period and the permission would only last for a year.
The method has been used by Ulster Bank's parent NatWest to reduce the UK government's ownership level in the group.
AIB chief executive Colin Hunt told shareholders at the meeting that while there have been challenges in 2020, the fundamentals of the business remain "robust, sustainable and strong".
Additional reporting by Glenda Sheridan