Total debit and credit card spending, including ATM withdrawals, rose by €1.2 billion in March, or 23% compared to the previous month.
Figures from the Central Bank show that online spending rose by 18% in March to make up 52% of spending, which was down slightly on the previous month.
Online spending is up 48% compared to March of last year as Covid-19 restrictions keep some retailers closed.
Today's Central Bank figures also show that in-store spending rose in March and was up 29% on February.
ATM use rose in March by 24% but compared to March last year, it is down 18%.
---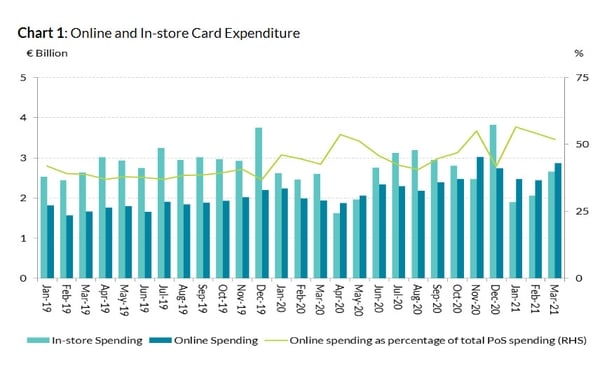 ---
Today's figures show that spending rose across most retail and services. Groceries were up 22% on February while hardware purchases jumped by 43%.
Spending on transport rose by 33% during March but it is still down 43% on March 2020.
Spending on accommodation rose by 2% but is still down 57% compared to last year, the Central Bank added.